Misconceptions about Australia abound: riding kangaroos to work and dodging deadly animals on the regular. Regional Australia cops its share of misconceptions too, but truth be told, regional cities are bursting with industry growth, enviable career opportunities, and family-friendly lifestyle options to boot.
The Crossling family are here to debunk outdated myths of regional Australia and showcase country life at its best. Between them, Rebecca and Shane both work full-time, run a small business and share the load of work and family life, raising two adorable boys and nailing the juggle with an attitude of gratitude.
We chat to Bec about the benefits of living and working in the country, full-time working mum life, and adjusting to the school run. 
Can you tell us about your career journey and your current role?
I studied a communications degree at RMIT University; I was looking to set myself up for a career in public relations. I commenced my career in a boutique PR firm doing national media campaigns for many not-for-profit organisations. I then moved into a PR and marketing role at a prestigious Melbourne private school. 
After two years in this role, which I loved, I was yearning for home and to be around my high school girlfriends, so I took the leap and moved back to Mildura, knowing that if I hated it, I could easily slide back to Melbourne. 
Of course, I loved being home, and after six months in a role, I was made redundant! I picked up another role quickly and then met the Executive Director of the Mildura campus of La Trobe University. Once he learnt I had a communications degree, he snapped me up as he was looking for a marketing person to profile university in local schools. 
Since then I have stayed at La Trobe in numerous roles. My role is now in industry engagement, and I work alongside the Head of Campus to secure opportunities in our local business community for our students and academics. These opportunities could involve internships for students, research opportunities for academics, sponsorships/partnerships or developing product solutions for the local community so we can alleviate workforce needs. It's a great role, so diverse and challenging—plus it sees me network a lot in my local community, which I love. 
I also support La Trobe's regional office on some projects that are delivered across our regional campus network, and I manage the Mildura campus social media channels. This is great too, as I love storytelling and did a bit of journalism at uni, so sharing stories of our students and alumni is something I'm really passionate about and inspired by every day. 
Perhaps it's because I've now been there so long, grown up, married and had two children while working at La Trobe, but I feel my time here has really grounded me as a person. It has made me realise how privileged I have been in my upbringing. The opportunities I have been presented in life are simply not what everyone gets dealt.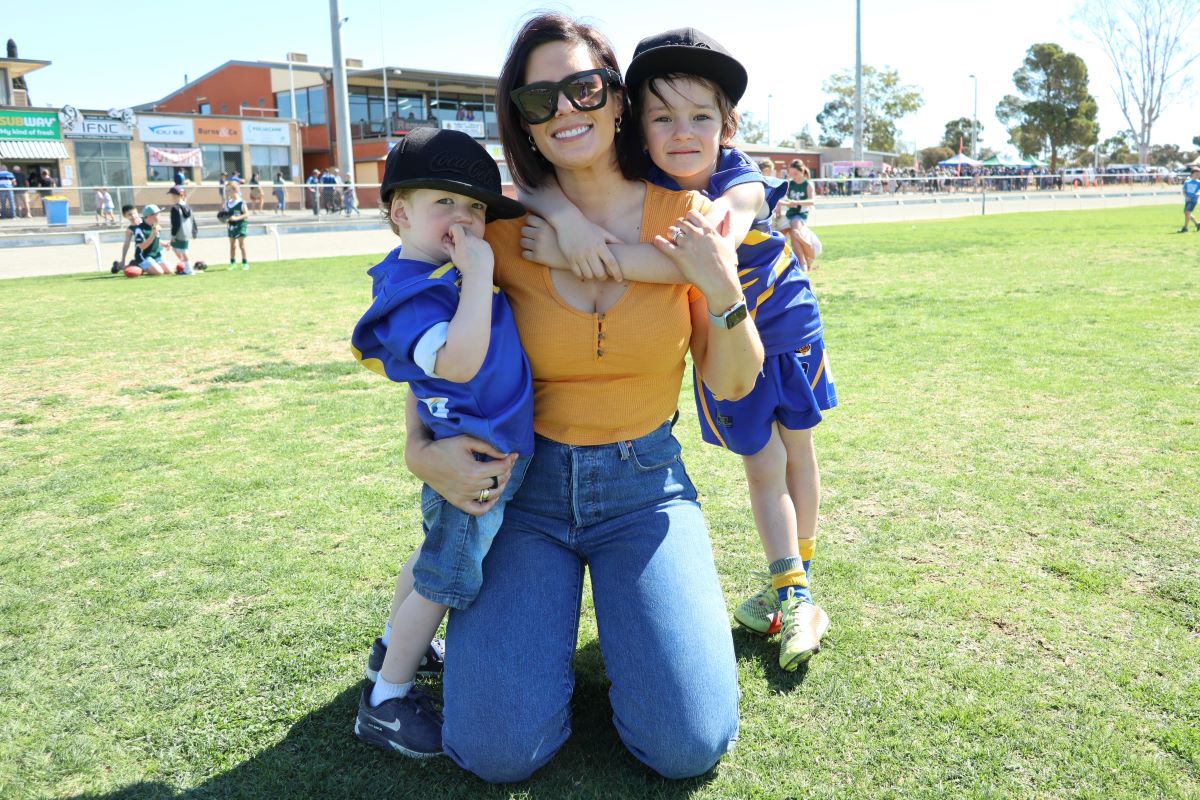 You have two gorgeous children, Flynn, five, and Benji, three. How has having children changed you? Are you more or less ambitious career-wise?
Having kids has of course changed me, but I do like to think I'm still the same Becca I once was! As everyone says, it does change your outlook on the world and make you realise what's important. My husband is also good at reminding me of that all the time, as my materialistic ways do take me wayward sometimes!
I have always been ambitious in my career and still am. Having children has made me more ambitious, as I want to demonstrate to them a strong female role model in the household. There's still such an unconscious bias that the majority of the 'home work' e.g. raising children, jobs around the house, falls to the mother, and I hope by the time my boys grow up and develop their own relationships, this bias has gone. 
Being a full-time working mum, quite often people tell me I'm amazing, which is really lovely—don't get me wrong. But never does anyone say to my husband that he's amazing for doing the exact same thing, and that demonstrates how unconsciously we still associate the home work with the female in the house. 
I recently went to San Francisco for a week with my mum, and so many people remarked, "What's Shane going to do for the week?" or, "Is his mum going to have the kids?" Ha ha, no! Shane managed totally fine by himself!
I have also thought of having kids as a challenge, because it is, but also I like a challenge and want to be able to prove to myself that I can still reach my career goals while wiping bums, snotty noses and all the glamourous tasks of parenthood!
You are proudly raised in regional Australia, and have worked both regionally and in Melbourne. What are the lifestyle and career benefits of living and working in regional Australia?
I was born in Melbourne and moved to Mildura when I was seven for my dad's work. We were only supposed to be there for 18 months, and 28 years later my parents are still there! 
Living regionally offers so many lifestyle benefits. For one, less traffic! I travel 15 minutes to work, my son's school is on the way and my other son's daycare is on campus at La Trobe. I can walk out the door at 5.00PM, have Benji by 5.10PM and be at home cooking dinner by 5.30PM. I have friends who live in the city and leave the house with the kids at 7.30AM. I just can't comprehend that—my kids are sometimes still asleep at 7.30AM! Many days at work I quickly eat my lunch and run to the supermarket to grab something for dinner, so I love being able to get around easily. I also believe regional people are very social, I think a regional community by nature just evokes more human interaction.
As for career benefits, there are many. It's a terrible stereotype that you have nowhere to go in your career regionally. It's no secret there are many skills regional areas are screaming out for, but it's not just that. I feel quite often in regional roles, you are given a lot more variety or diversity in your role, simply by the nature of, there's nobody else to do it! I think this is a huge advantage of working regionally. It allows you to personally develop quickly and set you up for an interesting career. 
Furthermore, the growth of digital nomads is a real opportunity for regional areas. I think in the future you'll see more large companies and start-ups being open to regionally-based/remote workers.
For me, personally, another added career benefit is I see first-hand how important my work is to the local community here. La Trobe University is an essential organisation in my community, where only 8% of the population have a bachelor's degree, compared to 44% in metropolitan Melbourne. Over the past few censuses, there's been an increase in this percentage and that's because La Trobe is here churning out graduates. 
So, would you agree that there is a misconception that if you are not working in a capital city you are missing out on career opportunities? What are your thoughts on this?
It's truly a terrible stereotype that we're giving up on our careers in the regions. Country people by nature have always been resilient, and I think this is the case, even if you're not a farmer. You have to be more diverse in your role as the variety of things thrown at you can be quite large. I've always seen this as an advantage and this is very much the way of the future too. Adaptability and self-reliance are up there as top traits employers are looking for, and I believe our regional ways help develop these traits.
Like most Aussies, we hate the stereotypes: riding kangaroos, deadly animals, shrimp on the barbie. It's the same in the regions and I feel sometimes metro media doesn't do us any favours, and we probably don't do ourselves any favours too. There are so many stories of the drought, which deserves stories, it's terrible. There's many inequalities that country people face with relation to healthcare, education, etc., however the benefits are immense too. We all need to do a better job of sharing how wonderful it is and showcasing that life is always great and rewarding outside a capital city.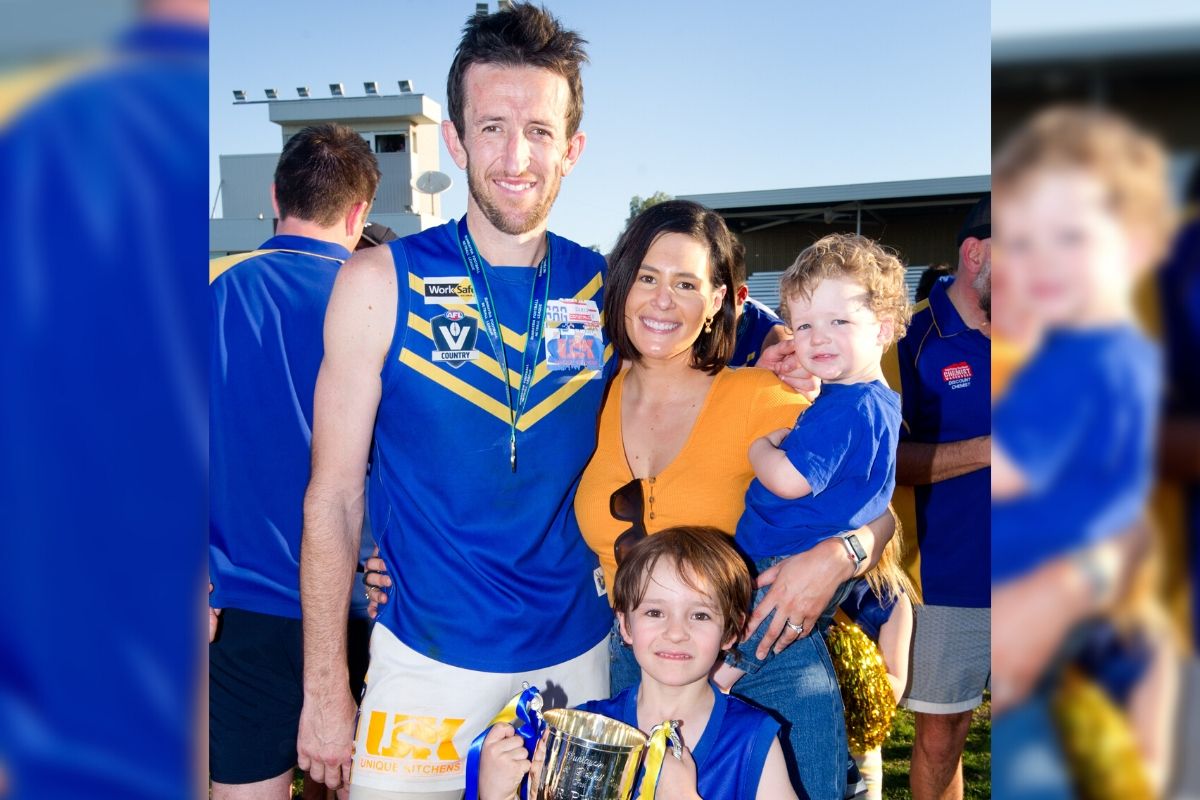 What is the best career advice you have ever been given?
Oh gosh, that is hard, I've been given so much! I guess, a great one is that your career is a marathon, not a sprint. It's common for women to feel frustrated in their career while they're having babies or raising children. But I often think to myself that one day it's going to get easier and I'm sure I'll feel sad when my boys don't need my attention all the time, so I try to live in the moment more and appreciate what I have. 
Your eldest son, Flynn, started school this year. How have you and your husband, Shane, found the adjustment to becoming school parents?
It's been a big adjustment! I have many friends who couldn't wait for their kids to start school so they no longer have to pay for childcare. At the beginning of the year, I was thinking, I'd much rather pay! There's so much to juggle with school when you're a full-time working parent. Firstly, Flynn cried for most of term one—it was so traumatic. It was hard, but I felt really well supported at work—everyone helped me through it every morning I'd get to work after school drop-off. Shane did many school drop-offs in the beginning as well, as Flynn seemed to get more emotional when I dropped him off, compared to his dad. Then there's the school holidays. We've managed through this with a lot of planning, using a bit of annual leave and long service leave, family support and vacation care. Although even at first, Flynn was upset at vacation care. He has adjusted well now and all the trauma is in the past! The next big step will be those six weeks off over Christmas and New Year! Shane is very busy at work then—he has his own business so time off is difficult. I'll take some long service leave, and also lean on school teacher friends who are off work and my family. It really does take a village, as they say!
How do you and Shane share parenting responsibilities and make life run smoothly?
Usually on a Sunday I'll quickly debrief with Shane what we've got on for the week and how we'll juggle it all. Most days I do school and daycare drop off, allowing Shane to head off to work earlier so he can pick Flynn up at 3.15PM. Then I pick Benji up at 5.00PM, we come home and I'll be cooking dinner by 5.30PM. We'll eat, and then Shane baths the boys while I clean up. It's quiet time after that and then bed time for the kids. While the kids are having quiet time, usually we're both on our computers doing a few little work things before we do the bed routine. 
We really share the load. There are so many burdensome tasks associated with parenting. Of course it's lovely, but we all know there's some stuff that's just a bloody drain! So Shane always says, if we can halve it, why wouldn't we? Just make it half as bad for us, ha ha!
You recently returned to work in a full-time capacity. How did you feel about returning to work full time? How have you managed your transition back to the workplace?
I was already four days a week since I returned to work after Benji in 2017. As soon as I returned and told people I was four days a week, I had someone say to me, "So you're working full-time but getting paid for four?" It's taken me two years to realise, yes, I probably am! I put 300% into my work, so honestly once I went full-time, I hardly noticed a difference in the workload, just my pay, which has been great. I'm always busy at work and I think when you're busy, you have more energy. Sometimes having a day off makes me feel so tired and lethargic, although it is important to do it sometimes. 
For me, the best way to manage working full-time and having a young family is being organised and ensuring weekends are spent with family. Sundays are pivotal for me: I do lots of washing, change the beds, do a supermarket run and quite often will cook something big that will help get us through the week's meals. I truly believe a Sunday well spent brings a week of content! 
What have you found most challenging about working and having a young family?
The grind. We both work full-time, so getting the kids out the door in the morning can be really hard some days. When Shane has to go super early, doing it by myself causes me to sometimes feel exhausted by the time I get to my desk, but I quickly get in the groove of work that I hardly notice. The kids have swimming lessons at 9.00AM on Saturday mornings too, so it's really a six day a week grind to get out the door! So Sundays are definitely our lazy, sleep in days.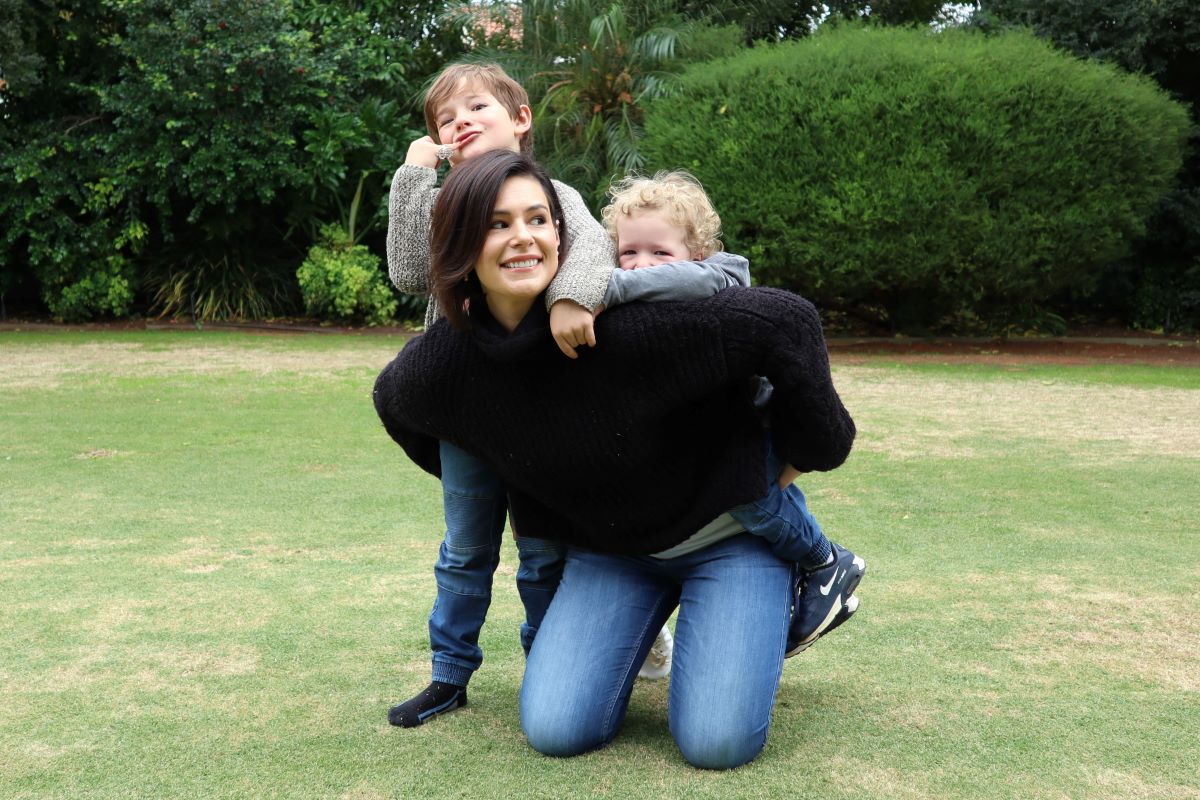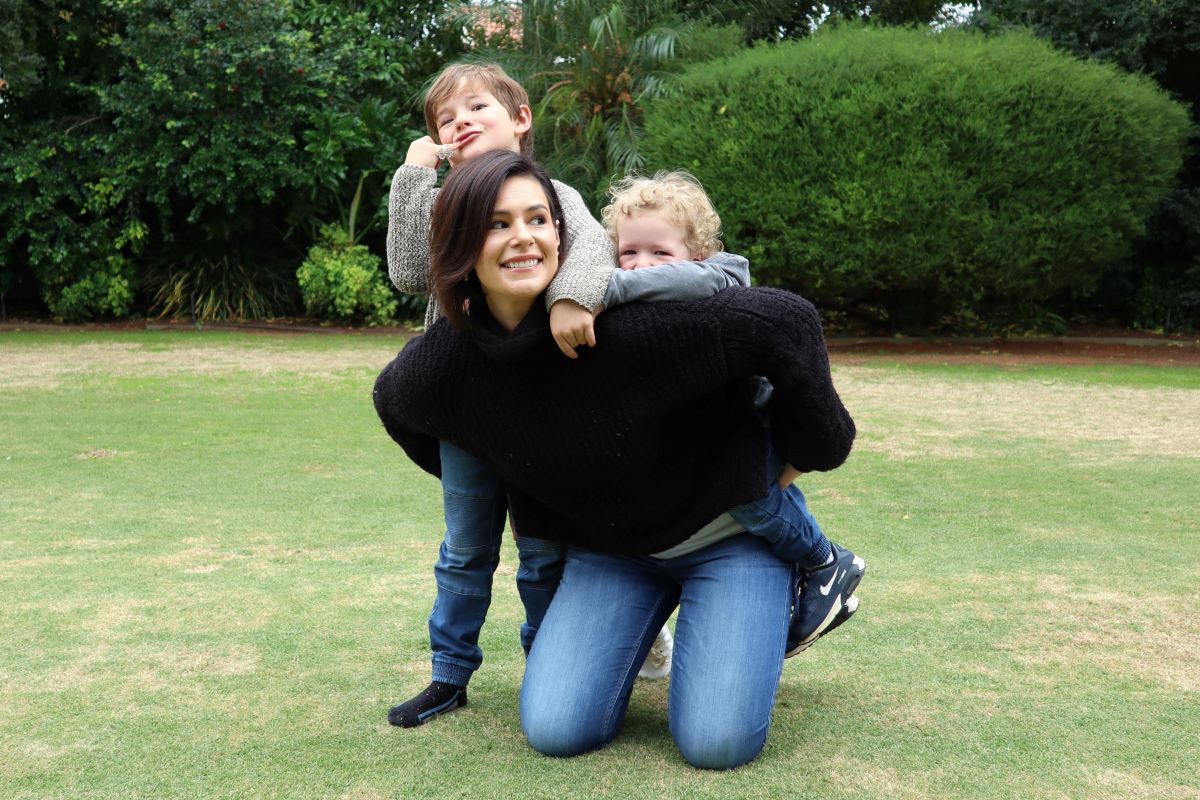 What is your approach to health and wellbeing? How do you look after yourself with two young boys to care for?
I work out five to six times a week. I love exercise and how it makes me feel. It helps wake me up and it's true that when you exercise, you have more energy. I am up 5.30AM on weekdays to either go to the gym, catch a barre class or go for a walk with a girlfriend. It's just something I prioritise, and not every day I want to do it, but I push myself to do it as I know I'll feel lousy if I don't. For some people that can't prioritise exercise, I just say you have to think of it like cleaning toilets, you just gotta do it otherwise it won't get done!
With both my babies, I struggled through the first six weeks of their lives. I had to have c-sections with both kids and I honestly think the lack of exercise contributed to me struggling. Exercise is just a huge part of my life. After both births, I was thrilled to get the go-ahead at six weeks to go back to exercise, as I just didn't feel myself without it!
Favourite time of the day is…early morning! My alarm goes off every day at 5.15AM, I'm out of bed by 5.30AM to get to the gym, go for a walk or catch a barre class. 
Instagram sites that inspire you…At the moment I'm really obsessed with Effie Kats. As a young girl who dreamed of a high-flying career wearing a fabulous suit every day, I'm so thrilled that suiting is in fashion and I adore everything Effie does. I was booked in to get a suit made earlier in the year, but had to cancel—I can't wait to get there soon! I am really inspired by her story of how she has made such a great comeback after her first label, Zachery, went into receivership. 
I'm happiest when…it's the four of us together on the weekend. I love going out for a meal as a family, even though it's chaos. I'm really proud of us and what we've created. I love being together. 
I'm addicted to…the Ps: podcasts, political commentary and period dramas! I am back at the gym doing weights, mainly because I had so many podcasts to listen to and this is a great time to do it. I am obsessed with any period drama: I've just finished watching Victoria and I'm so sad it's over. I am also a massive political nerd, particularly American politics. There's a show called The Circus, which followed the 2016 political campaign. I loved it. It's about to launch again as the primary campaigns are well underway in the US, and I can't wait to follow it weekly. 
Discover more Real Stories from our Circle In community HERE.