Hard to believe, right?! Motherhood is challenging enough, but Susie proves that age and relationship status are no barrier. This incredibly zen woman has gone it alone to have a baby and shares her personal experience of the IVF rollercoaster. And if that isn't enough, Susie somehow managed to start her own workplace wellness business amongst this journey. We love how Susie embraces change, takes everything in her stride and has a 'razor sharp' focus on her priorities.
Can you tell us about your career journey so far?
It's been a long and winding road, nursing, mainly paediatrics, a Masters of Public Health, a whole lot of not for profits, time in developing countries and some research. A highlight was an amazing Aboriginal art auction that raised $250,000 in one night for Aboriginal kids' health research. Then yoga, meditation and mindfulness teaching—all leading me here! I've founded a workplace wellness company that is focused on stress management, Lilo Wellness.
You've been working on Lilo Wellness for about two years now. How have you found this journey of starting up your own business?
Amazing, but crazy and slow. It's been part-time as I'm it, as my son's sole parent. And an incredibly steep learning curve as I started from scratch knowing so little! But I'm really finding my feet now. Finally!
What has been your biggest challenge in running your business? What have you loved the most?
I knew so little about websites, marketing, online platforms and systems. I love that I now know how to use so many different tools, for accounting, scheduling, payments, websites, creating documents! Just the general business know-how and banter is all pretty fun. It's a HUGE amount of work but I don't tire of it.
Congratulations on being the proud parent of a gorgeous boy. Can you tell us about how becoming a mum has changed your perspective on life?
Where do I start?! I appreciate my parents so much more! And my priorities are so clear now. All the superfluous nonsense just drops away.  I have to have razor sharp focus to be able to manage being a sole parent and running a business, which is why meditation and mindfulness have been such a God send! There's no way I could do what I'm doing without them.
I'd already simplified my life and was super organised—having not started out that way naturally—but it's made those things even more important.
I'm happy not to get out much, I've done so much of that. Although keeping up friendships is important—there are many more catch-ups with other mums, which is so important for sanity! It's a real theme in my life currently, balancing the need for social contact other than with Harry, and being so focused just on my business and home. I've dropped that ball a bit and I am working on getting it back, but it's hard at times to get that balance right.
You also made the brave decision to have a child by yourself and went through the IVF process. Can you tell us about your experience?
IVF is a crazy rollercoaster—there are so many ups and downs and twists and turns. But I was really lucky I didn't do it too tough, mainly, I think, because I wasn't trying to conceive for years and years prior, and the hormones didn't mess with me like they can.
I had my first treatment at 39, and had three embryos implanted but none took. I thought I was done. I got on with my life without a child and was having a blast touring with a band, going to festivals in the US and UK. But as that door really started to close, at 42 I decided to try again and fell pregnant pretty much straight away. It was the most amazingly wonderful experience. I loved being pregnant and then being a mum more than I ever had possibly imagined.
The sperm donor part of the equation is a can of worms too! I hit the jackpot with my son. He's so delicious! But you don't know what genes you'll get. So I consider myself so lucky. Still, there's a lot to consider in relation to his emotional wellbeing and the story of his conception.  It's very complex.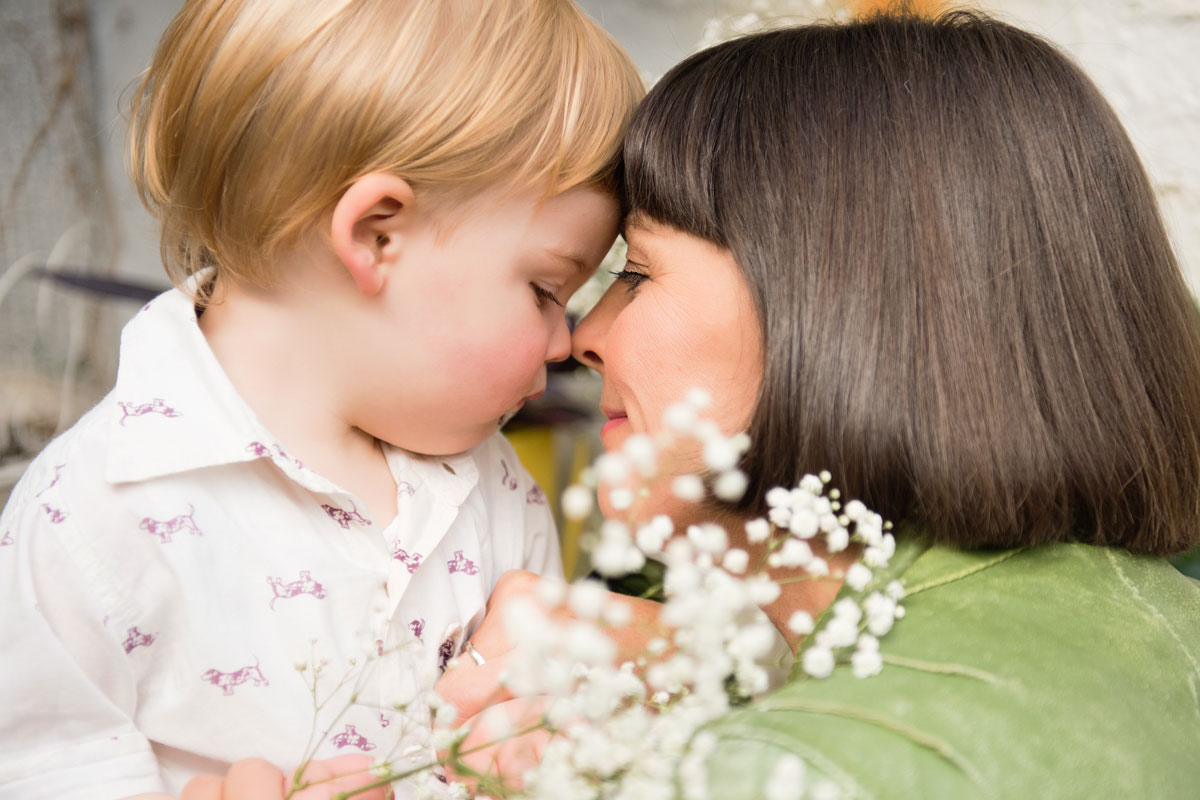 Women are often told, 'You can have it all, just not all at the same time.' What are your thoughts on this sentiment as it pertains to women juggling work and family?
I agree wholeheartedly. Though having it all is subjective so it depends on your definition. I don't need to go out to shows or dinners or away on exotic holidays right now, and I've already done a lot of that. It's time to be a mum and set up our future. But I still feel like I have all I could ever have wished for.
I think I have a pretty different take on work-life balance. I do believe it is possible, but you have to constantly, consciously work at it and there will always be times it's out of kilter. If we just simply slow down and just do what we need to do without being all tensed up, we get to what needs to be done and we can actually enjoy doing it, for the most part.
The most important thing is to try to make sure we're not too stressed, moment to moment, day to day. As then we become ineffective. We waste time and energy and things don't flow. We miss opportunities. Of course there are still times I tense up and get stressed, and guess what, things don't flow! This is the whole reason I do what I do, I teach people about managing stress and being committed to being as mindful as possible.
Where do you see your career going next? What is one dream you have that you have yet to accomplish?
I've really just begun the business journey, so next I need to grow this baby! I have a vision of expanding nationally, but I need to expand more in Melbourne first!
How do you stay sane with the juggle? What is your way of coping when you find yourself frustrated, overwhelmed or burned out? How do you look after yourself?
I do so much! It's essential or I'll be on the floor in a heap.
I take time out from work to work out twice a week (strength/cardio)
I walk/run the 30 minutes to and from Harry's childcare three to four times a week
I eat insanely healthy food

—

mostly

—i

ncluding dark chocolate!
I teach and do yoga a couple of times a week
I meditate daily
I have baths, give myself pedicures and pamper myself as often as I possibly can
I go to the osteo once a month
I get to bed by 10.30PM at the latest the vast majority of the time
I don't really drink any more … maybe three drinks a month (I know, I know … it's unthinkable to many, and was to me too a while back!)
I do a digital detox (most) Sundays
I don't do guilt!
I really do practice what I preach, mostly
Favourite time of the day is … mornings, just not before 6.30AM.
Instagram sites that inspire you … @magda_szubanski; @oneroofwomen; @2atstartup.
I'm happiest when … I'm chilling with my son.
I'm addicted to … really good coffee.
Favourite wardrobe staple for work … is smart but super comfy and always a bit fun.
Favourite wardrobe staple for weekend … jeans and a tee.
My role model is … Sheree Rubinstein (from @oneroofwomen).
Heels or flats? Flats! (and the occasional wedge if really necessary).
Discover more Real Stories from our Circle In community HERE.