Investing in caregivers to build a better working world
Circle In is a digital-first employee benefits platform that provides on-demand access to expert advice for caregiving employees and their managers at every life stage.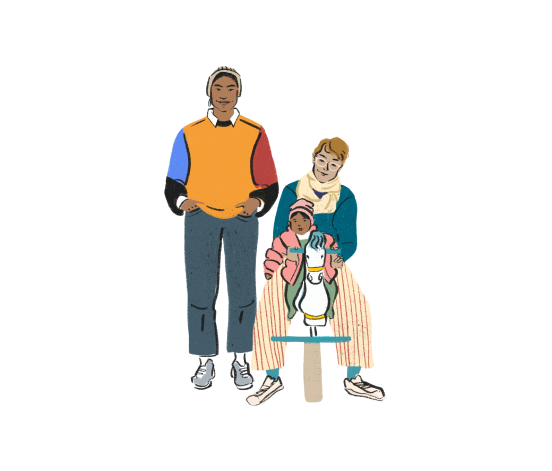 Jodi Geddes and Kate Pollard, Co-founders of Circle In explain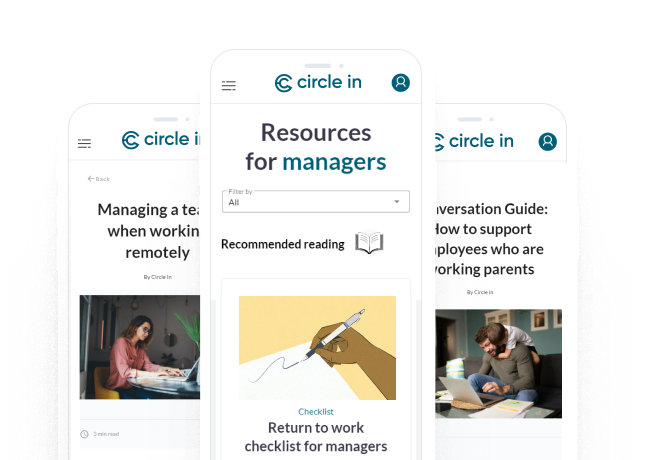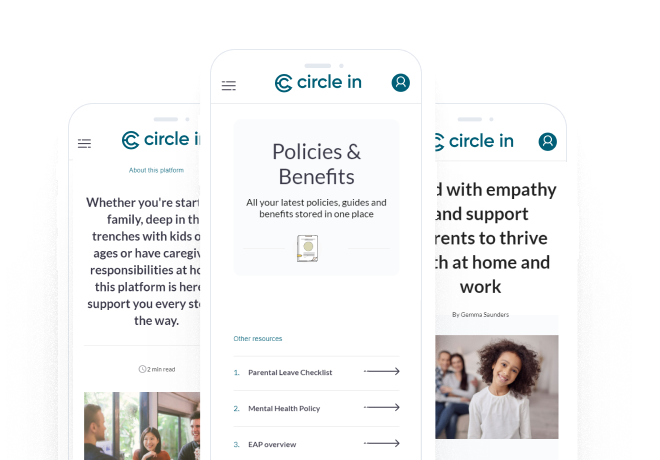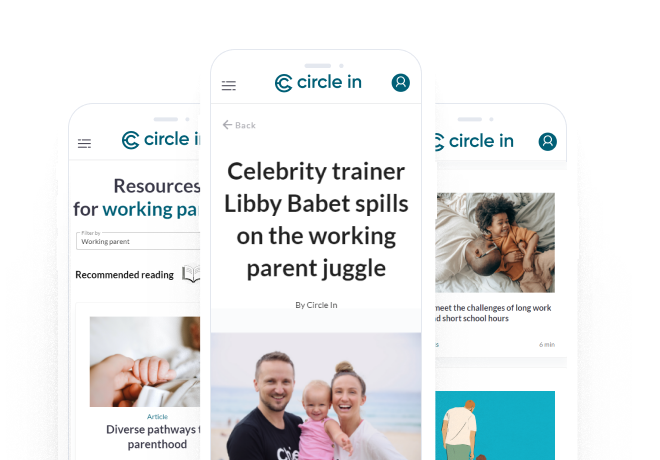 in the moments that matter
We provide support, expert advice, and enable leaders to maintain meaningful connections with their team. This provides managers with a skill set that few know how to handle. 
A global employee benefits platform that enables you to deliver a consistent employee experience, whilst reducing reactive workloads. Employee benefits are moving towards personalization and customization, the Circle In platform delivers both.
The needs of working parents are always changing. Whether they are expecting, on leave, or experiencing guilt as a working parent. Circle In is there to guide employees through each stage, providing the right support at the right moment.
Reminders
Automated nudges across key life stages.
Manager support
Conversation guides support managers across parenthood and caregiving.
Real business impact
A solution that will deliver best-in-class ROI. Taking your engagement, productivity, and employee retention to new heights.
Superior reporting
Receive monthly and annual insights reports, so you can track the metrics that matter. Allowing you to support changes based on what your people actually need.
Easy implementation
Simple and fast to implement, deploy Circle In across your organization, driving results and impact.
Centralized information
Centralized benefits, policies, and company-specific information.
Real community stories
Real community stories to inspire others.
Range of resources
Data-backed, diverse and inclusive content designed to support, inform and inspire.
Timely nudges and conversation guides to coach and support your managers in the moments that matter.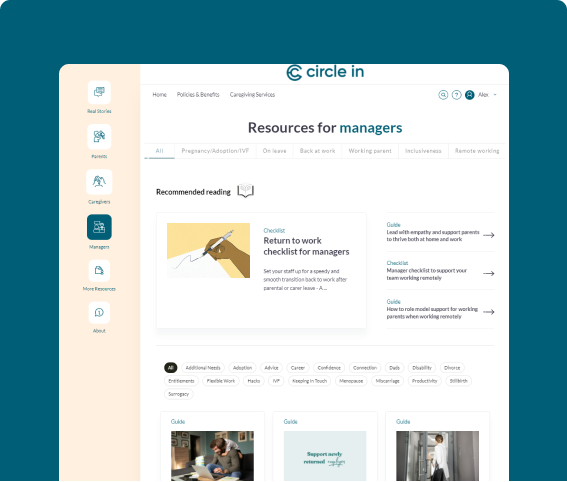 Every parent has a different journey, we personalize the employee experience for each member based on their needs.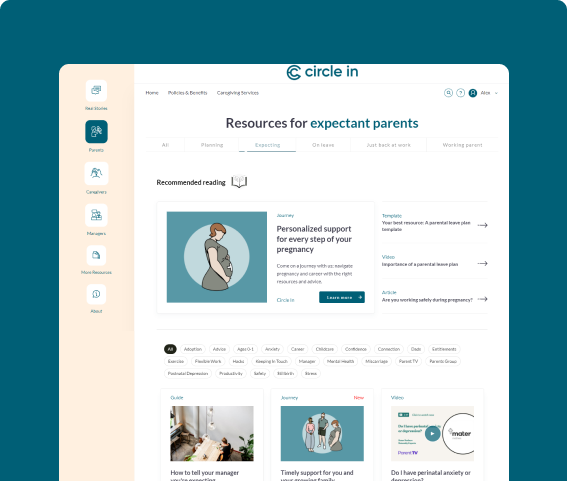 Our platform is cost effective, globally scalable, and easy to implement – with inclusive content to appeal to employees regardless of location.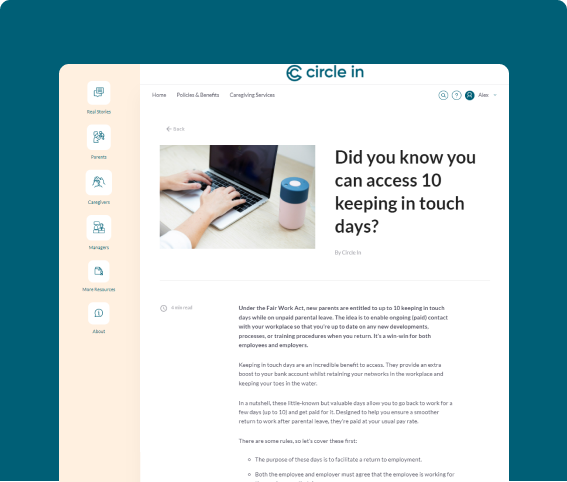 Reporting and analytics to inform and support HR teams.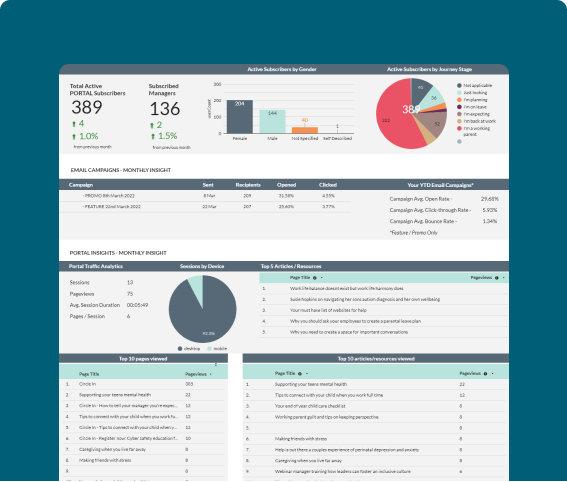 Access to over
700

all inclusive resources
Balancing parenting and career when your child has special needs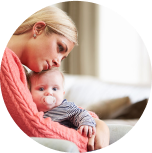 What it's really like to live with post natal depression
Balancing work and children as a single parent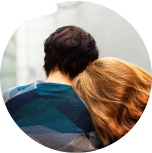 A heartfelt story of living and working through a miscarriage
How to tell your manager you are pregnant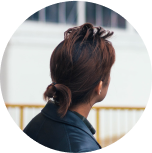 Dealing with baby loss and returning to work 
How to ensure a successful return to work after parental leave 
Childhood anxiety: spotting the symptoms
Back from parental leave: Writing a return to work message to colleagues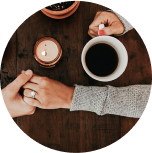 How to support a colleague after stillbirth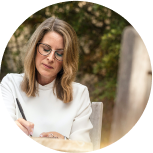 How to navigate your career and menopause 
Parent wellbeing during the pandemic
Conversations to have at work to manage the caregiver juggle 
What it's really like to live with post natal depression
Looking after your mental health as a caregiver
Aging parents? What to look out for and what to do next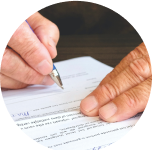 Managing the unexpected when your partner has special needs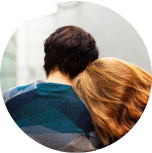 Supporting employees through IVF, fertility treatment, surrogacy, or adoption
Manager checklist to support your team working remotely
700+ resources spanning six life stages
Content curated for each user
Access to on-demand webinars
Real community stories to inspire others
"Circle In has impacted my life as a working parent because I feel less alone. I also feel supported by my organization because they've taken the initiative to institute Circle In."
Candice, Reece Group
See the platform in action