When you have major career ambitions for yourself and become a parent, the juggling act can seem impossible – as you do your best to set boundaries, reckon with guilt, and manage resources. But Einav 'Navi' McKennary is living proof that it's not impossible. She's gone from Israel Defence Force member to digital design queen, while still making time to soak in and enjoy every delightful moment of raising her baby girl. Now, Navi's sharing the efficiency tricks she uses to make it all work.
Can you tell us about your career journey and your current role?
Not your typical career journey…
Growing up in Israel means serving in the defence force when you turn 18. For me, it meant running training and educational programs for disadvantaged youth to prepare them for army service. The opportunity to influence, motivate and lead others was fulfilling, but I was yet to understand what that meant for my career. 
After three years' service, I left and became a flight attendant for the Israeli national airline (El Al). While repetitive in nature, the role did teach me how to win people over (crew members and passengers), adjust quickly to new environments, and feel comfortable spending a week alone in an unknown destination and find my way around.  
It was during my time in the airline that I started studying, combining a 32-hour awake window with morning classes. I was studying a Bachelor of Media and Communications, but there was only one subject that kept me awake and that was digital design. 
I started as a digital graphic designer when I was still flying. Working for McCann (formerly McCann Erickson, a global advertising agency) for peanuts, I slowly built up my portfolio and confidence levels. After several years of designing for clients, I accepted an in-house design role at the global messaging platform, Viber. Not long after, I was promoted to my first leadership position (high five to my 18-year-old self!).
My plans took a sudden turn when I swiped right on a handsome Aussie lad and decided to take a leap of faith and relocate my life to Australia. 
Meeting new people, being exposed to a new culture and challenging everything you know would be hard for some, but not for the flight attendant in me. It was 'game on'!
As for work, I found my experience and skills were easily transferable, and shortly after arriving, I was lucky enough to score an amazing opportunity with SEEK (the employment platform) and lead a fabulous design team.
Fast forward three years and I've decided to say goodbye to SEEK and take another step forward to advance my career. 
You're a mum-of-one! How has having children changed you? Are you more or less ambitious career-wise?
I'd say I'm AS ambitious as I always was. The challenge is fitting all of that ambition between the hours of nine to five on the dot.
I find that I'm more efficient now and generally better at prioritising.
My parent's group is also a huge help in that department. I'm surrounded by a group of ambitious, successful women that encourage each other to grow professionally while balancing family life.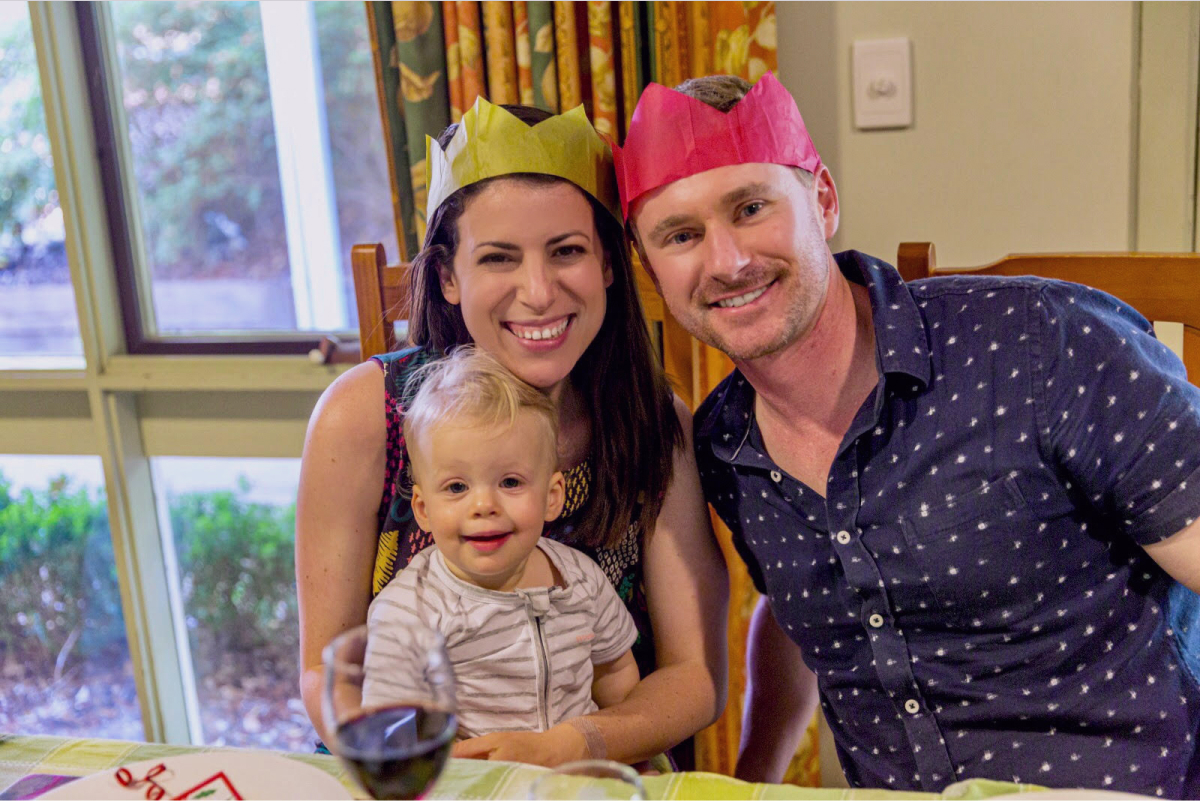 Earlier this year you wrote a blog post offering some handy tips for managers of parental leavers. Can you tell us more about your parental leave and return to work experience – the highs and lows?
One of the best perks of working at SEEK is their parental leave transitioning program, which supports new parents by giving them tools to best prepare for leaving AND returning after parental leave. Some highlights for me were establishing a support network, making sure I do a handover well in advance and setting some rules around the frequency and type of communication I'd require while I was away.
With some organisational changes while I was away, I soon found myself lacking a structured plan for my return, so I decided to create my own wishlist.
My list contained 'dos and don'ts' for managers of parental leavers, and took a year to formulate as I  reflected and chatted with parents around me. It was originally drafted for our HR department that was looking for ways to improve their support for parents, but quickly shifted to become an article, as I realised it can help others.
And for some storytelling… On my first day back, I was dropped into a very important meeting with senior leaders, going around the table and sharing insights about their teams. On my turn, I changed colours and apologetically replied that I could only share baby photos. At that exact moment, I received a photo of my little one from the nanny saying that they miss me. I rushed to the ladies room and wept for 10-minutes. Needless to say, this was added to my list and classified under 'skip the large meetings'.
What is working parent life like for you? Is it what you imagined? What are the biggest challenges?
I remember Navi before motherhood. She used to preach to others to take lunch away from their desks and have afternoon tea with their colleagues! I now use every minute between nine to five to get work done, even if it means eating while I email and getting soy sauce on my keyboard!
How do you share home and childcare duties with your partner?
I'm one of the lucky ones! My husband has been working remotely since day one… well, before COVID-19. He absolutely adores our little girl, enjoys the quality time and is highly supportive of my career.
We share all of the responsibilities but not always with perfect balance. We're learning to be flexible with that too.
How has family and work life changed in light of COVID-19 and lockdown?
I've been living my best life since COVID. I painted our house, took on some crafts, baked and gardened. The absence of commute time enabled me to be more available and present with my loved ones.
The biggest revelation for me was that I'm ready to leave the city life behind and consider a more remote option. Even if it won't eventuate this year, it's definitely on our cards. 
I'm inspired by… Great conversations with my very knowledgeable husband. But also… Pinterest!
I recharge by… Getting to bed early! I used to joke about Aussies going to sleep early and now I keep breaking my own record for early bedtimes. 
My favourite time of the day is… Shower time! It's probably the ONLY place I go to without my phone, which means I get some serious reflection time. It's the closest thing I have to visiting a spa, so I tend to use it AND abuse it. 
My best parenting hack… Allowing my daughter to lick the chocolate covered whisk while I bake brownies. It gives me 20 minutes of silence!
Discover more Real Stories from our Circle In community HERE.