If you've ever thought women can't have it all, you might just reconsider after hearing this mama's remarkable story. Carlie Kilikas is killing it in an executive leadership role. CFO at thirty-something plus wife and mother of four! How has she achieved so much at such a young age? Through a combo of tenacity, hard work, and an amazing support network that have got her back.
Can you tell us about your career journey so far?
Whilst studying I worked part-time in the office of an aged care organisation that assists the homeless and disadvantaged. As a 17-year-old working in this environment, I came to the realisation that our clients were our priority and I quickly matured. I also realised my passion for finance and community-based organisations.
I briefly worked for a cosmetics company after completing my degree, which reinforced that the retail sector was not for me. From here I quickly moved into healthcare as a finance analyst and within a year I was promoted to Senior Business Analyst supporting a range of services within a hospital. In this role, I eagerly insisted on being involved in organisational wide projects to broaden my skill set.
After completing my CPA I became Manager of Management Accounting and Corporate Support. I completed a leadership course and progressed to managing a team, whilst also managing revenue and costs in excess of one billion dollars.
An opportunity presented itself to move to Sydney to become a director of two hospitals, so I packed up my family and moved to Sydney to progress my career. Within six months I was appointed Executive Director of Finance and Capital for seven hospitals and 11 community health centres within NSW. At the time of appointment, I was early into my fourth pregnancy—fortunately, the CEO and board were very supportive.
In 2018 we moved back to Melbourne to be close to our family and I was appointed a Chief Financial Officer (CFO) within the healthcare sector.
Reading over the details of my career, the journey sounds as though it was easy, but I can tell you I have tackled many obstacles, shutdowns, bullying and self-doubt over the years. However, I have found that the more I persevere the easier it becomes to achieve my goals.

You have achieved amazing career success at a young age. What's your advice for other women who are driven and want a family? 
There is no right time to start a family or have more children. Be clear to yourself and your partner about what you want to achieve in your career, and give yourself a timeframe to work to.
Technology is your friend. Utilise remote access and flexible work arrangements to suit your family needs. Work from home one day a week or if early or later shifts work for your family, communicate this from the start to your employer. This assists me immensely with being able to be more present in the kids' lives including at school, sports, or just ensuring that dinner, bathing, homework and bedtime routines are completed at a reasonable hour.
Do what is right for your family and try not to listen to comments or suggestions from others. Only you will know your circumstances and what you want to achieve as a family. Take all factors into consideration such as financials, family support, childcare options, work requirements, etc.
Childcare, family or nanny? Do what is best for your family situation. Ensure you choose the option that makes your life easiest when you get home from work to ensure you maximise the amount of time you have with your children. We have trialled all options to get the right balance.
Congratulations on being a proud mother of four children. Can you tell us about how becoming a mother has changed your perspective on life?
I feel motherhood has composed me as a manager in my career. I have learnt patience and improved my listening skills, and I am much more empathetic and approachable to my staff. I always ensure my staff know that there is more to life than just work, and ensure that they are given the same flexibility for their own lives that I would expect.
And lastly, my confidence has been given a boost.
I still doubt myself from time to time, but I feel becoming a mother gives you power and instinct to protect and deliver for your family. I use this power and drive to deliver my career goals and get things done.
Women are often told 'you can have it all, just not all at the same time'. What are your thoughts on this and how women juggle work and family?
I disagree with this statement. I focus on what needs to be achieved from a work and family perspective and just do everything in my power to achieve it.
Sometimes when I'm sitting on a plane for business trips (usually the first flight out for the morning) or in executive meetings I play 'spot the female'. These situations are usually full of men in suits and there are few women about. It always gets me thinking why there aren't many women in these situations. Do we still face gender inequality in workplaces or is it that as women we don't feel empowered enough to take on these executive positions?
As mothers we tend to worry so much about every task at work and at home. I used to worry about ensuring I packed the right foods for school, are the kids doing enough extra-curricular activities, is my employer getting enough out of me and does my husband see me enough? But I have learnt that if my family (which is my number one priority) is happy and healthy, that's all that matters. I don't think, nor do I care about what others perceive my life to be. I focus on what needs to be completed, whether it be at home or for work, and I do everything in my power to get it done.
As a woman in my early thirties with four children, I do feel we can have it all. It can be very busy, but there are 24 hours in a day and with the right attitude, support network and organisation we can find the right balance to have it all.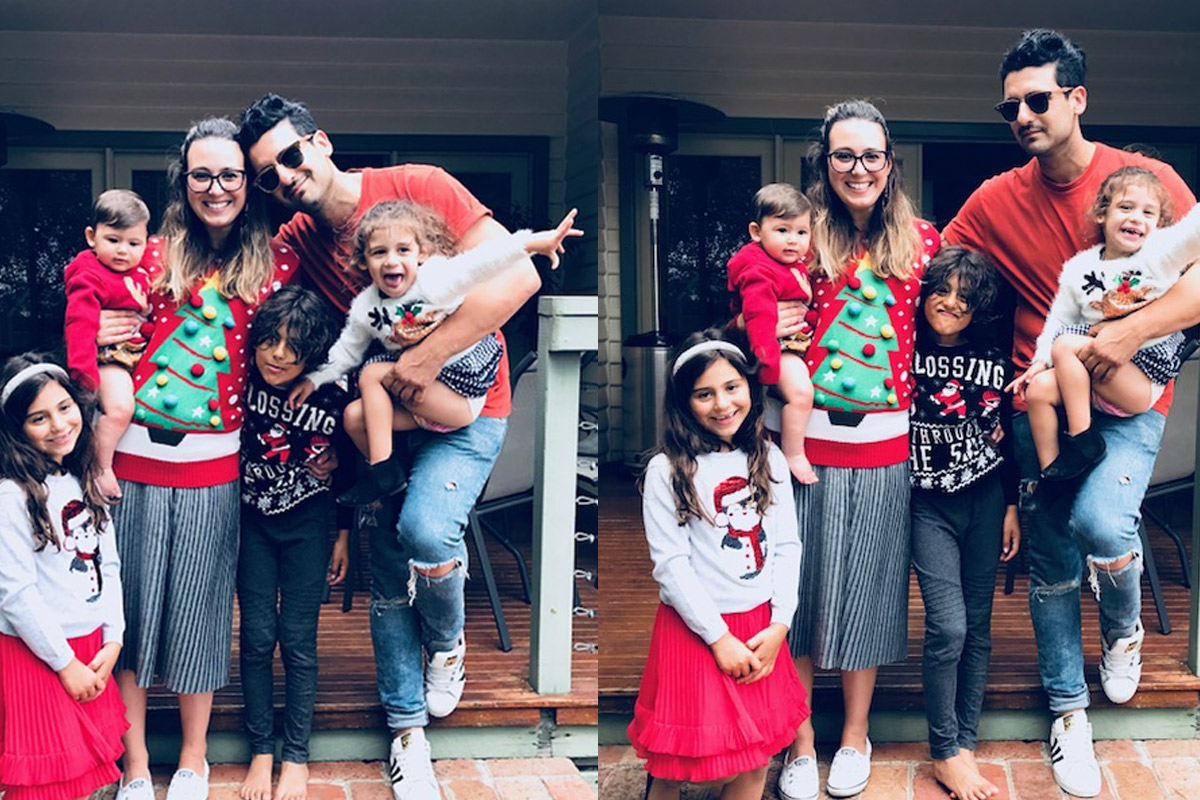 You and your husband are very equal in parenting. How has this positively impacted your career?
My husband is my biggest supporter. I really could not be where I am I today without his support, little pep talks, and the motivation he gives me on a daily basis to be able to achieve it all. I have been very clear from the start of our relationship about my career goals, and he has assisted me in every aspect to get me here—from resigning from his job and moving interstate for my career progression, to being a stay at home dad for six months after one of our children was born so I could take a new role. He really has been the enabler for me to become a chief financial officer at 33.
How do you and your husband practically manage the juggle on a daily basis?
We equally share all parenting, activities, and household duties (he probably does slightly more). He also works full-time in a high powered position, so we are all about balancing the home tasks along with children's pickups and drop-offs evenly. We have also created a support network of family, friends and the parents of school friends for backup. These are the people that help us get through if we ever get stuck.
We openly communicate our work or other commitments to ensure we cover all tasks throughout the week, and we commit our downtime to do fun activities with the kids. While at home we work to our strengths, so I usually help the kids bath and do the washing, while my husband is more talented at vacuuming/mopping and being the household chef.
It probably sounds crazy, but there have been many nights when we complete our weekly supermarket shop at 11PM, or are up until after midnight or get up at 4AM just to mop the floor or finish off that piece of work for the next day. But we get it done, and if that means a day a week where we have minimal sleep to keep the family ticking along, we do it.
Where do you see your career going next? What is one dream you have yet to accomplish?
I would really like to become a CEO for a community services organisation. I am a fairly young executive, so I know I still have a lot to learn and would like to develop in a few areas before tackling it. But I would definitely like to achieve this before I am 40.
How do you stay sane with the juggle? What is your way of coping when you find yourself frustrated, overwhelmed or burned out? How do you treat yourself?
Keeping sane is hard at times. However, I really enjoy making time to have lunch with my girlfriends, or a night away with my husband while the kids stay with grandparents. It may only happen once a month, but this little bit of me or us time is so important.
We have also just returned from an overseas holiday to Japan and Bali. These once a year overseas trips with the children really reenergise us as a family, and we experience something new and exciting together.
Remember… who says you can't have it all?
Favourite time of the day is…bedtime. I love snuggling with the little ones before bed.
Instagram sites that inspire you…I'm a 'collectivist' (is that a word?). I follow anything and everything from Michelle Obama to children's clothing stores to interior decorators to celebrities.
I'm happiest when… I'm with my family.
I'm addicted to… cake.
Favourite wardrobe staple for work… a Furla handbag or Rhodes & Beckett dress.
Favourite wardrobe staple for weekend…my Nike active wear. Perfect for running the kids around.
My role model is… Jacinda Ardern—a working mum running an entire country. #career goals
Heels or flats? Heels, every day.
Discover more Real Stories from our Circle In community HERE.