Like any caregiving role, raising children is incredibly important. For exactly this reason, looking after yourself can easily slip to the bottom of the priority list for new parents. But caring for your health and well-being is critical for your family to thrive. Just ask Lauren Zammit who's finding her feet as a working parent after welcoming a baby last year. An organization maestro with self-care front of mind, Lauren has the right tools to aptly integrate work and life.
Can you tell us about your career journey and your current role?
I've worked in human resources (HR) for close to 15 years, mostly in HR business partnering roles. I started my career at Australia Post, partnering with a number of teams who were driving organisational change as part of their transformation program. Working in a large organisation early on really helped me to build my experience and accelerate my career growth.
In 2016, I joined the ME Bank team as a Senior HR Business Partner. ME Bank provided me with some amazing career opportunities – I played a lead role in their agile transformation, partnered with some fantastic executives and their teams, and had the privilege of leading some great people within their people experience function.
I've recently started the next chapter of my career at Flybuys, one of the largest loyalty programs in Australia, where I'm leading a number of key people initiatives. I'm really excited about joining such an iconic brand and working in a business that is rapidly driving a growth and transformation agenda.
You became a parent for the first time in 2020; congratulations! As your baby's birth and your parental leave approached, what were you most excited about and most nervous about?
I experienced so many mixed feelings heading into parental leave!
I was most excited about meeting the tiny human I had been growing for the past 42 weeks; My baby, Olivia, was very overdue, and clearly was not as keen to meet me as I was to meet her!
I was nervous about my life changing so drastically and, honestly, whether I would enjoy being a mother as I was never the maternal type. I was worried that my identity would disappear overnight. There were many tough moments, especially during the many months of lockdown, but I'm so grateful to have spent the first 14 months of Olivia's life with her, and proud of the person I've become as a result.
What were some of the ways that you prepared, both personally and professionally?
During those last few weeks of pregnancy, I started to prepare myself for our daughter's arrival by getting organised. I'm an avid planner – I've got lists for everything! Lockdown 1.0 started three weeks before I had Olivia – so I watched 'The Home Edit' and made my way through my house, conquering the clutter with style! Being organised gave me a sense of calm, which was helpful leading up to Olivia's birth.
Were you able to enjoy a little 'me time' each day? What did you do to relax and recharge during parental leave?
I really tried to prioritise 'me time', especially when we were out of lockdown – I quickly realised that if I didn't look after myself, I wouldn't be able to effectively look after Olivia.
I love going to the gym – I enjoy boxing, and strength conditioning training. Whilst we were in lockdown, daily walks with Olivia were my refuge. Exercising helped me to physically recover from birth, allowed me to feel more like me again, and gave me the headspace to be a better mum.
Have you found becoming a parent has changed your perspective on life and career?
Parenthood has completely changed the way I look at life. I don't sweat the small stuff like I used to, and I care much less about others' opinions of me and my life choices.
Becoming a parent has made me more focused with my time – I've realised that I need to work smarter, not harder. Work is an important part of my life – but it's not my entire life like it had been at times in the past. My family and spending time with those I love is more of a priority for me than ever; the challenge for me over the upcoming months will be how I squeeze work, family, health, and all the other things that I enjoy into so few hours!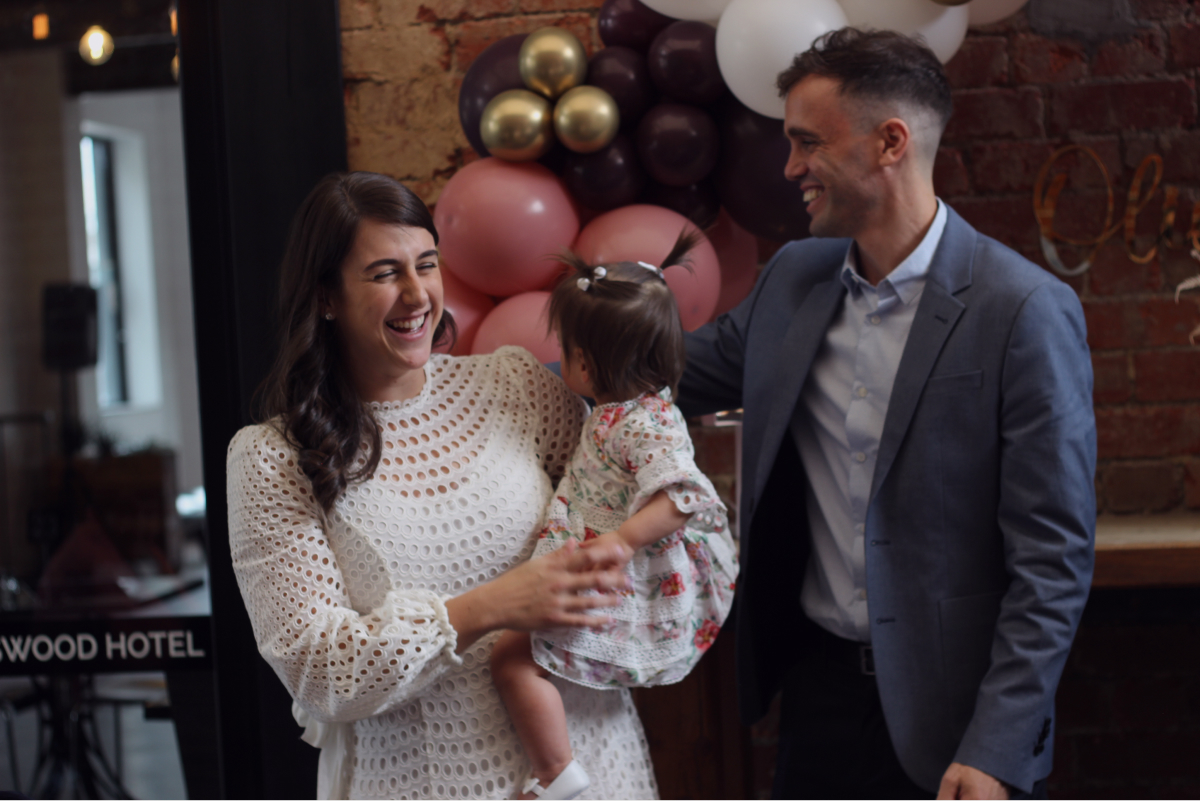 You went on parental leave as the coronavirus pandemic sent Australia into lockdown which must have thrown up some unique challenges. Can you tell us a little about the highs and lows of this experience?
We were in lockdown for most of the first seven months of my parental leave. As a new mum, I really needed help – from my family, friends, and medical professionals. In the early months, I struggled with breastfeeding and found myself on a Zoom call practicing with a lactation consultant – coronavirus made some aspects of first-time parenthood harder than it should have been.
In saying this, there were many silver linings. I felt lucky that my husband was home with me during those first few months. If we weren't in lockdown, he would have only spent his one week of paid parental leave with Olivia, so we were both grateful for the quality family time, and I was extra thankful for the spare pair of hands!
How did you feel about returning to work? What were you most looking forward to?
Like when I transitioned to parental leave, I experienced many mixed feelings returning to work! It was important for me to acknowledge the emotions as I was not only returning from parental leave but also starting at a new organisation – two huge transitions at once.
I was looking forward to starting a new role in a different industry, seeing how we would manage the juggle with Olivia, and how I would go being back in the work environment.
What did your return to work look like?
I started working at Flybuys in early June. I was working from home in my first weeks as we were in lockdown, which to be honest, made the transition a lot easier as I wasn't traveling to and from the office. Starting a new role in lockdown has its challenges, but I'm looking forward to meeting my teammates in the flesh when we can.
One of the reasons why I was so interested in joining the Flybuys team was because of their #flybuysflex policy, which empowers each team member to choose where, when, and how they work whilst continuing to achieve business outcomes. From what I've experienced so far, this approach is truly embedded in their culture, which is so refreshing for someone like me who really needs flex in their lives right now!
How did you plan to share the juggle of home and work with your partner?
I was nervous about how we would manage the juggle – it's something that we're going to have to monitor as we find our feet as working parents.
Currently, we use Sunday as a preparation day – I do some cooking, we get on top of the chores, and run through the week's scheduling so we know who has Olivia and when. Planning and communication are key!
We have also started the search for anything that will make our lives easier – outsourcing, asking for family help, and even stopping some of the things we used to do, so we can spend quality time with Olivia.
My top tip for managing a career through parental leave is… make an effort to keep in contact with your networks; you never know where they might lead you.
My favourite time of the day is… dinner time, where we eat together as a family (minus the cooking and the clean-up!)
My best parenting tip/hack… surround yourself with people who make you better – it does take a village to raise a child!
Discover more Real Stories from our Circle In community HERE.