Chelsie is a single mother of two kids and knows only too well the importance of having awesome friends around her. In fact, this was one of the reasons that she was able to return to work and focus on her career.
She shares her insights with us about what makes a great friendship group and some practical tips on how to make it work.
Tell us about your friendship group.
It formed by accident. My children found these mothers for me, through friendships formed in the neighbourhood and school. These women lovingly opened their homes and family way of life to my children. Through our children we have also become amazing friends, and I will be forever grateful for it.
I am really talking about three to four women and their husbands who have profoundly and positively influenced my children. This includes my sister, who smothered my children with love in times I was absent.
Why is it so important to you?
I can't provide my children with everything they need. I don't know everything and cannot be everything. It takes a group to raise a family. I know my children are safe and cared for.
I know I can call or text if I am running late and they will be there to collect, feed, or talk to my kids. There is absolutely no judgement and no expectations. They do this because they can, and they want to love my children and me.
How has it helped you return to work?
I work 8.30AM to 5PM and these women have taken my kids to school, collected my kids from school, and taken them to after-school activities. Unfortunately, as a single mum, I can't be one of those mums who volunteers her time at school. I appreciate those mums who work at the canteen, help out on excursions and help the kids learn to read. Those mums are magical. It is these women that help women like me return to work and lift the guilt because they are there.
I remember my son, Slater, used to get ready really early and get to our neighbour's house in the morning to walk to school with her boys. I later found out that my neighbour would make him a cup of tea and feed him eggs and bacon for breakfast every morning. I only found out when my son asked me for a cup of tea. I didn't know that he even drank tea!
Do you think everyone needs their own friendship group?
I really hit the jackpot with my friends and feel so fortunate that these beautiful families accepted to help me and my kids without question. Every family has different dynamics and operates differently. My children have been exposed to the activities they do, the rules of their house, food they eat, chores their children do, and therefore my children help out too.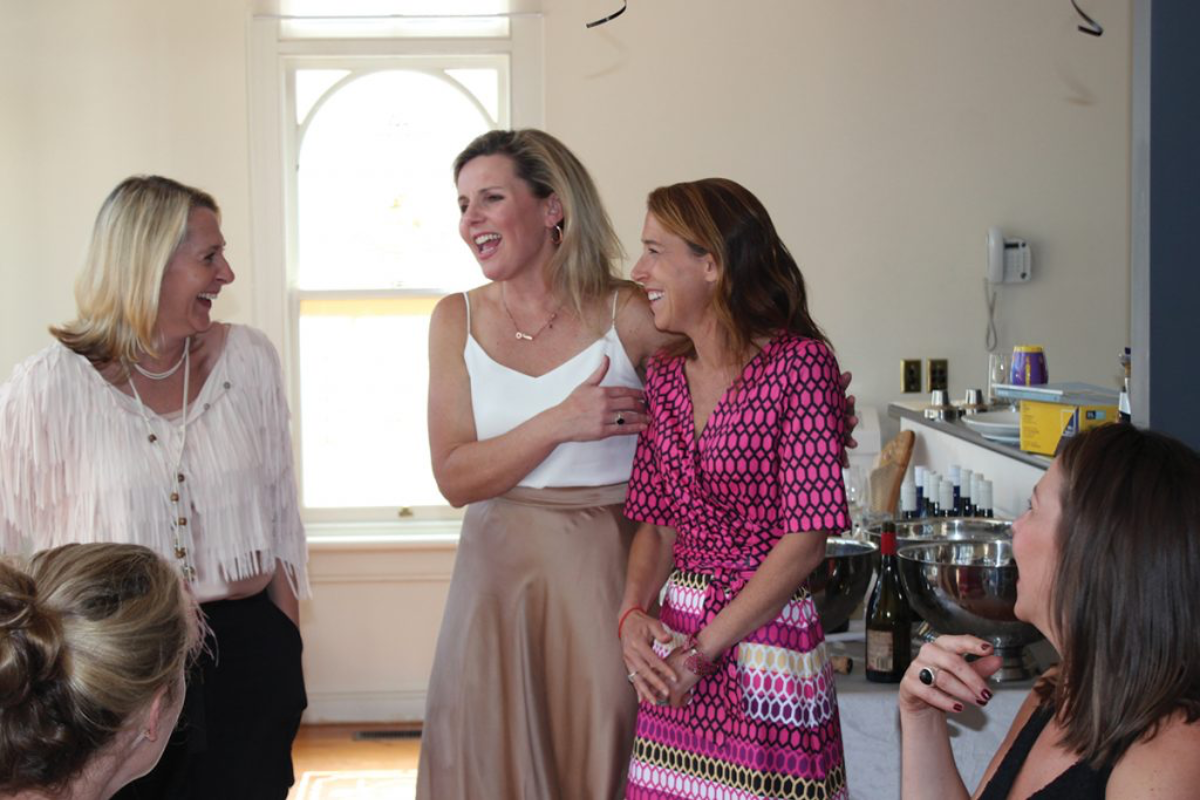 Practically, how do you manage everything?
My kids and I have dinner every night together and talk about the day. They are a bit older now so I get a few texts and emails from school during the day—they can be amusing or stress me out at work!
They play a lot of sport so lots of chats before and after games.
The children and I take one holiday a year for one week. Last year we went to Bali, and the year before Fiji. This year is Noosa.
You also need to be organised:
We have a massive whiteboard at home that has morning/weekly routines, what needs to happen, and where everyone is on a daily basis.
Uniforms are ready the night before.
All iPads, iPhones, laptops and any other devices must be charged overnight in the kitchen and not in the bedroom.
The kids' schools have an online portal, so I can see in an instant what is going on at school and where my kids are. This helps me a lot while I am at work.
I multi-task. I can clean a bathroom, vanity and toilet whilst I am running a bath. I can vacuum whilst I am cooking dinner. I can put a load of washing on at 6AM and hang it out so it's dry when I get home. I can iron and fold clothes as I watch my favourite TV show.
I am trying to get my kids to make their bed but failing!
How do you keep in touch with your friends?
We talk in the street or school yard or at a sporting event. We can get it all covered over a netball game. We also all love Facebook and Messenger. Once a year my friends and I spend a weekend away down the coast with our children and each other.
We also do 'fabulous mama' (only) lunches to celebrate birthdays, achievements and just be us.
My friends are everything to me.
Chelsie is a real estate property manager and mother to son Slater (13 years old) and daughter Madi (10 years old).
Discover more Real Stories from our Circle In community HERE.