How much Child Care Subsidy can you access? We cover the basics to help you work out the government support available to your family.
Australia's Child Care Subsidy came into effect in July 2018. It helps families cover the cost of some types of childcare.  
There are three things that will determine what you will receive:
1. Your combined family income
Your family's annual adjusted taxable income will determine the percentage of subsidy you are eligible for. To calculate how much subsidy you might receive, use this helpful online estimator.
For families with a combined annual income of $188,163 or less, there is no annual subsidy cap. Families earning above that but below $352,453 will be capped at $10,373 per child, per year. Over the combined annual income of $352,453, families will not be eligible for the subsidy.
Your combined family income and the subsidy you will receive: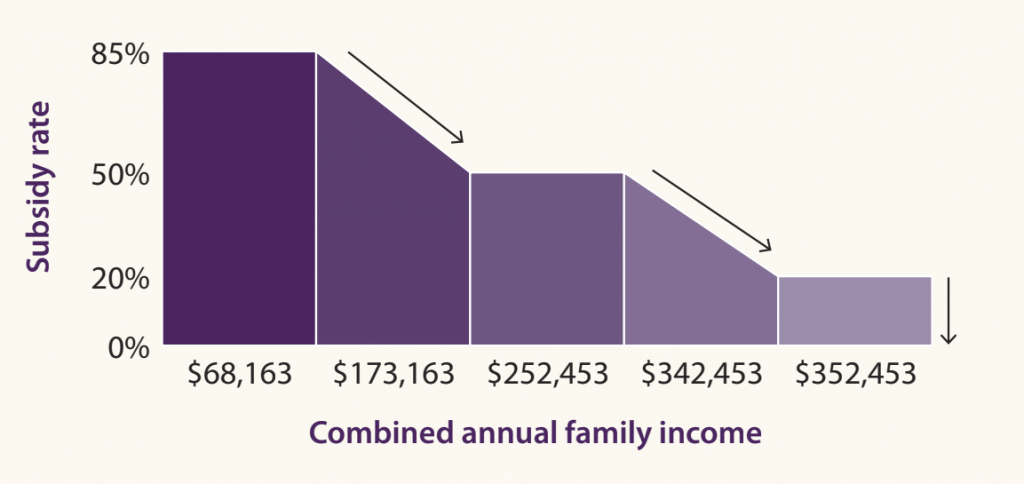 2. How much you work, study or volunteer
The number of hours of subsidised care your family can access increases relative to the hours of activity undertaken by parents (up to 100 hours of subsidised care per fortnight). 
To meet activity test requirements, parents must carry out at least eight hours of recognised activity per fortnight. Paid work (including leave such as maternity leave), self-employment, unpaid work in a family business, study or training, volunteering and looking for work are all recognised activities within the test. Other activities may also be included on a case-by-case basis.
If you legitimately cannot meet the activity test requirements, there are exemptions that are worth looking into. Also, the Package includes a Safety Net to offer much-needed support to vulnerable or disadvantaged families, and to grandparents who are primary carers.
3. The type of childcare service your family uses
There is an hourly rate cap on the subsidy you can receive, which is determined by the type of childcare service you use: centre-based care, family day care, outside school hours care or in-home care.
What you need to do 
It's important to know that you need to complete your assessment to access childcare fee assistance. You can do this online through your myGov account.
For more information including detailed explanations of subsidy rates and caps, activity test requirements, FAQs and information for families with unique circumstances, visit education.gov.au/ChildCarePackage.