What do you do when you're juggling a busy marketing career and two active daughters? Start a side-hustle, of course! Whilst on parental leave with her second child, Kelly Berghella of @bergerandstuff discovered her artistic-awesomeness and has taken her fabulous family portraits and abstract paintings from parental leave side-hustle to full-time art biz.
This creative mum of two understands the value of time and wastes not a minute of hers, if not producing work, then striving to be a positive role model for her girls. On the launch of her new website (subscribe for a special discount code valid till 8pm Sunday!), Kelly looks back on her parental leave and return to work challenges, her passion for gender equality in the home, and whether the juggle really is all worth it.
Can you tell us about your career journey?
I graduated with a Bachelor of Public Relations in 2003, and had a pretty terrible initiation into the public relations world as I worked for a practitioner who treated me (and many others) pretty badly. Unsurprisingly, I didn't stay long at that job, and once I recovered from the experience, landed myself a new job in marketing for an Australian Football League club. I stayed there for almost four years and, although I worked incredibly hard, it was so much fun and I met so many terrific people. 
The two years or so following I lived and worked in London and travelled the world. My last job in London was working for Unilever in their global marketing team for Dove Hair Care. 
When I returned to Australia, I was a bit lost both personally and career-wise so I took a job as an executive assistant at a financial institution (quickly discovering the financial industry is not for me!) and then found a job working in marketing for a local council. I met my soon-to-be-husband around the same time I landed the council position, and we had a semi-long distance relationship for a year before I moved to Melbourne and resigned from my council job. I have now worked for a state government department for the last six years within their marketing division.
Working three-and-a-half days with a state government department, what did you like most about being a working parent? What were the biggest challenges?
What I liked most about being a working parent was the fact it gave me mental time-out from being a mum. I liken returning to work after having children as being in a tropical paradise! Sad, but true! The biggest challenge for me was the feeling that as a part-time employee I was not encouraged to be ambitious, or considered as readily for career progression.
You also started a side-hustle that you initially worked on at night. How exciting! Can you tell us about that?
I started painting when I was on parental leave with my second child. I had never really been artistic (in hindsight creative and entrepreneurial perhaps, but definitely not artistic!). Although I immensely enjoyed the freedom and creative expression that painting allowed me, I soon realised I needed to sell my time or monetise my art practice in order to keep doing it, especially once I returned to my day job. I developed a style for a family portrait that was a little left-of-centre and, as far as I knew, quite unique in the market. 
The response to my work has blown me away! Commissions booked out quickly. I mainly completed the work at night or on weekends. I considered myself a 'time thief'—always stealing moments of time when I could to create. I have no idea how I got it done, but I like the philosophy: 'Say yes and work out the details later'.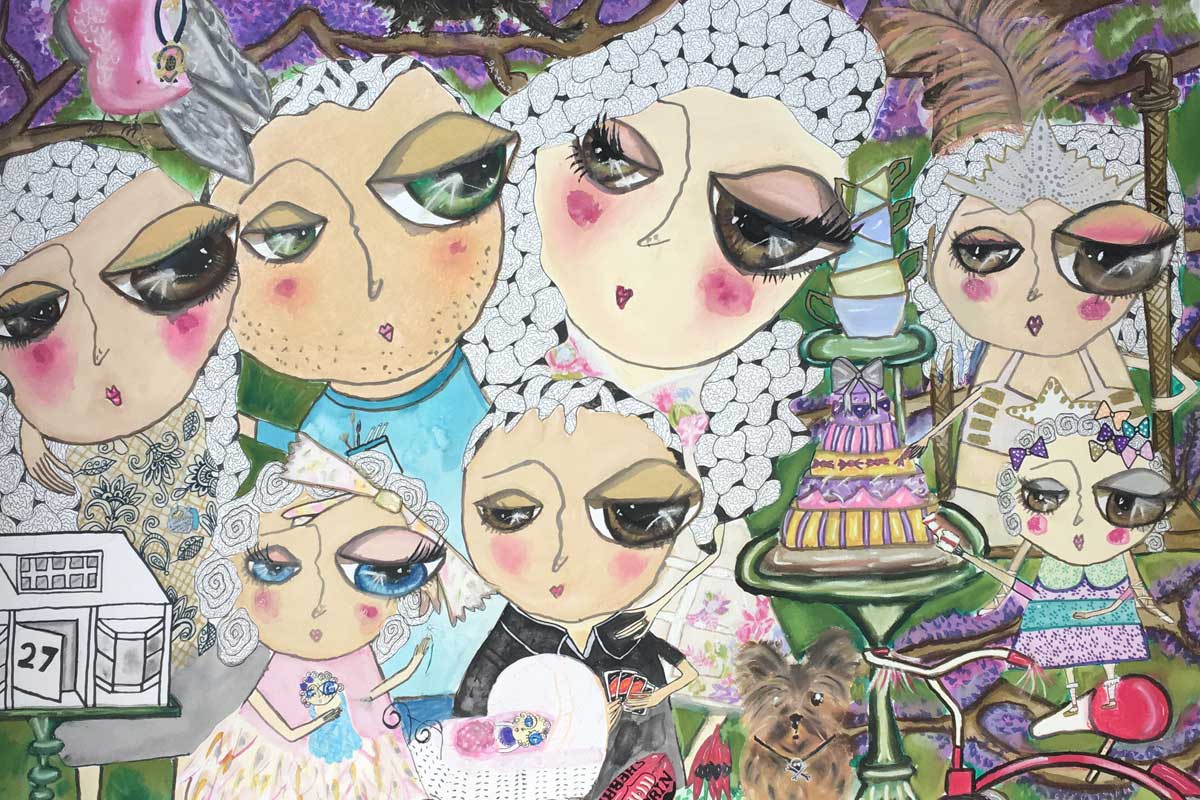 You have two gorgeous girls who are two and four. What were your experiences like taking parental leave and returning to work? Did you find that it was easier or harder the second time around?
My experience taking parental leave was mixed. From a work perspective, everything was great. As I worked for government, there were clear practices and policies in place and my employer accommodated my request to return part-time. 
From a personal perspective and in hindsight, I found the actual parental leave challenging–the isolation and the feeling of not achieving was difficult for me to deal with. 
In my first round of parental leave I started a home-based healthy baking business, and in my second round of parental leave I began my art practice. I found, having a small child at home, there were always plenty of things with which to fill my time, but the monotony was hard to handle.
The return to work both times has been, overall, a positive experience. I find either end of the working day the most stressful. I have always been responsible for getting the girls to childcare. When I get in the car after drop off I take a big, deep breath and a long exhale to prime myself for starting employed work! Then when I get home, immediately I'm preparing dinner, the girls' bath and bedtime (with quite a few tantrums thrown in the mix) when all I really feel like doing is nothing.
The juggle is definitely real and there have been moments when I have questioned if it really is all worth it.
I think I have found the return to work harder the second time around, purely from a logistical perspective, as it is quite literally double the workload and handling. Don't get me started on the bottomless pit that is called bloody washing!
How has becoming a mother changed your perspective on life?
It has changed my perspective immensely. I value time a lot more than I ever have and am much more efficient with it. I am very conscious of (trying) to be a positive role model for my girls, but I am definitely not perfect. I have three words that are displayed on their bedroom wall and that I also tell them I want them to be: clever, kind and strong. Hopefully, I can role-model that for them so they can offer a positive contribution to society.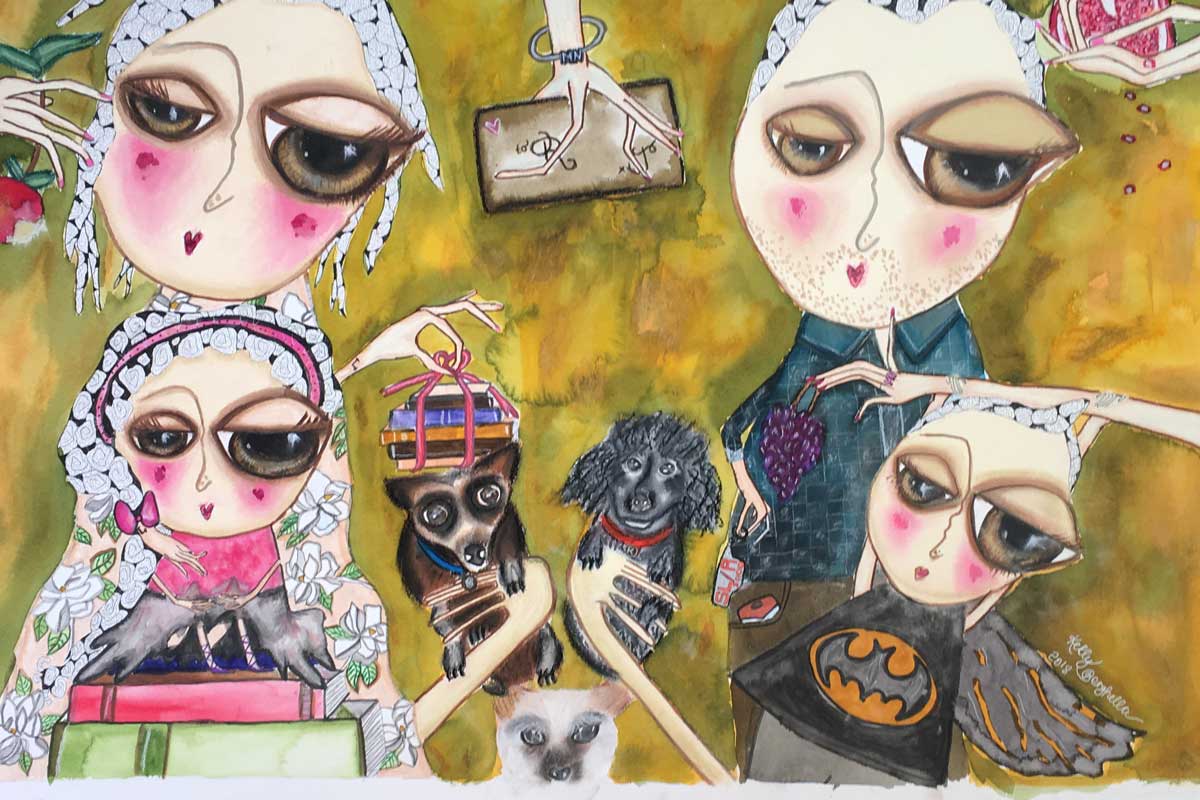 You are very passionate about equality, not only in the workplace but also at home. What do you think needs to change?
Ooh this is a multi-faceted problem and I think it is going to take at least another generation for attitudes to change in this domain.
As mothers we have been encouraged to return to work, but the domestic load hasn't rebalanced to meet this change. We still feel this accountability to be custodians of all domestic responsibilities.
There is a popular cartoon by Emma, a French cartoonist, called You Should've Asked, which illustrates the point that when a man expects his partner to ask him to do things, he is viewing her as the manager of household chores and this, in turn, increases the mental load which appears to be unique to mothers.
Annabel Crabb states in her book The Wife Drought, that one of the reasons women tend to burden the mental and domestic load is because they tend to be the ones who remain at home for a period of time following the birth of a child. This sets a precedent and expectation that often remains once the mother returns to work. Anyone else nodding their head?
My hope for the future is that one day if my daughters have their own children, they aren't the only parent that is asked the question, "So, are you returning to work?" That, to me, will display a true change in society's expectations.
How do you manage the juggle on a daily basis in a practical sense? How do you and your partner share the load?
We hire a cleaner once a week, which is cheaper than marriage counselling in my book! In all seriousness though, we are really lucky and grateful to have grandparents who play an active and willing role with childcare on a regular basis. I have lowered my own expectations and standards a lot too. No more folding underwear or trying to make every meal from scratch. 
My husband has his own business and his hours have little predictability. When he is at home, I feel we are both equal in our parenting and domestic servant responsibilities. The problem is, though, I am physically at home more than he is, so inevitably the larger load falls to me by default. But that is the reality of having your own business and I accept that.
Favourite time of the day is…when my kids go to bed.
Instagram sites that inspire you…@unskilledworker, @rosettasantucci, @rachelcastleandthings, @greenhouseinteriors and @circlein.co, of course!
I'm happiest when…it is Sunday morning and we have nothing to do and nowhere to be.
I'm addicted to…Instagram, silence, chocolate and wine (sound familiar anyone?!).
Favourite wardrobe staple for work…Gorman headband to hide my greasy hair!
Favourite wardrobe staple for weekend…Gorman headband to hide my greasy hair!
My role model is…I don't have a particular role model, but I do admire and respect my husband immensely for his consistent approach to life and relationships (as cheesy as that sounds, it's true!).
Heels or flats? I prefer flats—preferably something with colour.

Discover more Real Stories from our Circle In community HERE.