Well it's fair to say we have a little lady crush on Chelsea. She's the amazing fashion and homewares bargain hunter and creator of I Heart Bargains. From launching her business in her mother's group six years ago, to running the biggest bargain blog in Australia, she also flat out doesn't give mother's guilt any air time. We sit down with Chelsea as she shares her latest fashion tips, and her sage advice that 'you can never be loving when you're rushing'. You'll love this story which is filled with love and a passion for life (and bargains).
Can you tell us about your career journey?
For 12 years I worked in marketing, communications, PR and producing roles for many different companies. I was always in roles where I got to tell a story, and content was always my fav thing. I worked in radio as a producer and PR manager with top talent and managed their brands in the media. I adored every element of my career. I worked at the Country Fire Authority as well, which was a massively adrenaline-junkie type role because you were alerting people in their communities when there were bushfires and doing live interviews to press about the progress of a fire. That was such a rewarding job. My time at Channel 7 as the Weather Producer was tough but so much fun. At the time, working in radio and TV took over my life, although I never stayed in a job longer than 18 months. I don't think anyone needs to anymore, it's much more acceptable to jump around. Then I launched my own business, I Heart Bargains (IHB),where I share a zillion different ways to find bargain home and fashion items under $100.
We love that the idea of I Heart Bargains started with your mother's group. Can you tell us about that?
I'd had my first baby and I was pretty bored at home (as many women get, I am sure!). I made mother's group my 'job'—hosting at my place sometimes and having Friday 'wines at mine'. I cleared my lounge room so everyone could put their babies in the middle, and we'd talk 'shop' and what we missed about work (and about babies obviously). I have lifelong friends from mother's group.
I was wanting to stay fashionable, but soon realised I couldn't spend the same amount anymore so I had to get creative. I visited all the boutiques on Bridge Road, Richmond, and I visited Kmart regularly (this was WAY before it was cool) and started taking pics of my finds, and many mums would ask where I found my purchases. One mum suggested I email the group my finds, and another said, 'Why don't you just publish it to one of those blog things?'. And I did. That was nearly six years ago when IHB was born.
How important have your friends been throughout this journey for you?
I have a very small group of extra special friends. I don't have lots and lots of friends and, of course, they're everything to me and so supportive, as I am of their careers and challenges. All my close girlfriends are in really powerful jobs and they struggle with the juggle … all the time. I love women so much and everything we're about. I only tolerate women being 100% supportive and non-judgmental of each other. I don't have time for anything else but lifting each other up.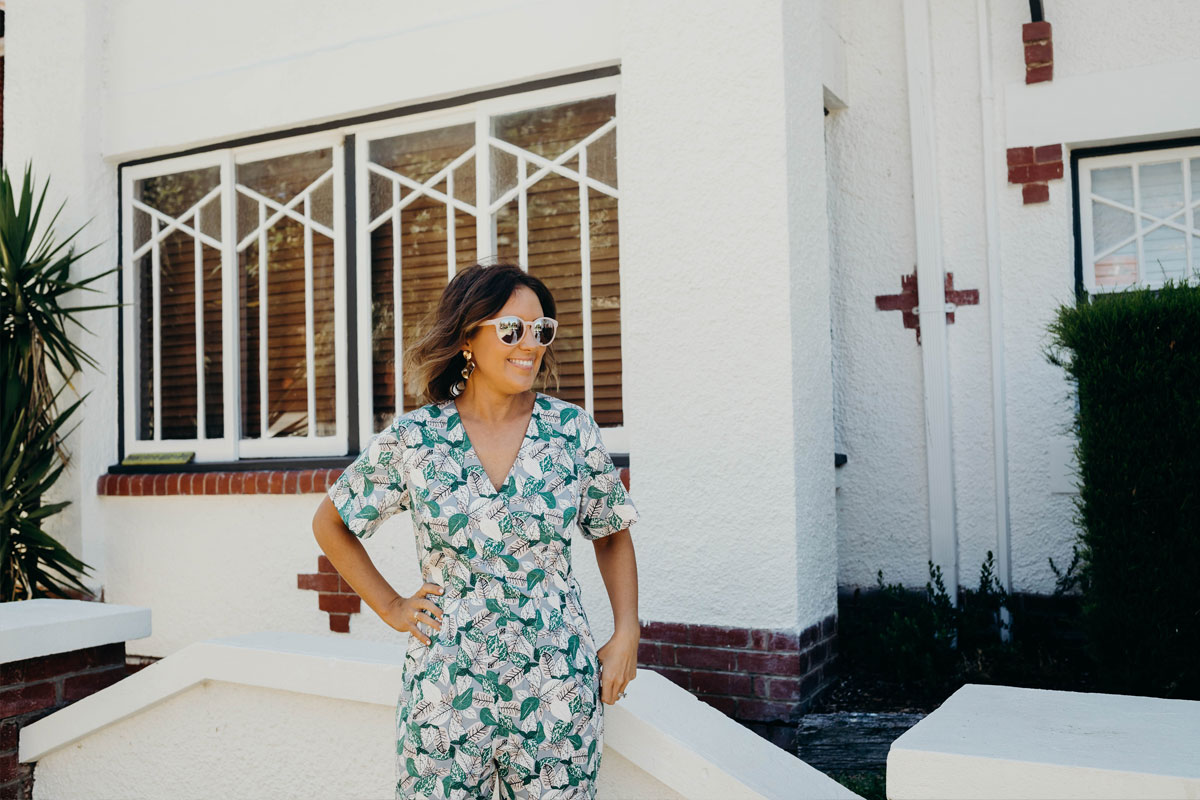 Was there one moment where you thought to yourself, 'I've made it!'?
Hmmm, not really. I always want MORE. There have been a few pinch myself moments along the way. Whenever I get a spot on TV I get goosebumps. I remember being interviewed by Channel 7's The Morning Show very early on for IHB and I totally talked over Larry and Kylie—it was live so I managed to get all my key messages across. Ha ha! Whenever I have an event and people actually show up, I get giddy because I had such a small idea so long ago and now it's a strong community who I rely on and love. The other side of the business (what followers don't see) is the work that goes into the branded content. I am now able to come up with creative concepts that I can then collaborate on with big brands. It takes a long time to get to this point, but every week there's a new cool collab and I have never ever been bored by it. I still get a massive kick out of bagging a bargain and making sure everyone can get a piece of it.
You are a mother to two little ones. How has motherhood impacted your career?
It's slowed it down. And I don't mean that in a negative way. It's just what happens. It has taught me to be really understanding of other mums doing as I do …running a business and bringing up little ones. It's bullshit that there's a perfect balance. I've never spoken to one mum that says it's a breeze, and if you do hear that, they're lying and crumbling inside. When the kids get sick (Clementine was so sick with colds as a bub and having zero sleep) I had to stop on those days … and it can become stressful when you feel as though the business has to wait (not many mums would admit this but it's a reality of trying to do everything). But kids are the focus so you need not to be so hard on yourself when things at home fall down. Sometimes it's OK not to be 'on' or go as hard as you'd like. Motherhood has taught me patience, resilience, and taught me that play and fun, at any age, are so important, i.e. Jude (my six-year-old) made me fake laugh until I legit laughed the other day and I couldn't stop laughing. Remember doing that as a kid?
Do you suffer mother's guilt?
No. I actually don't. I've always been a believer in women working (if that's what they want). It makes me a way better person and I'm not a person who could be a full-time stay at home mother. I'm very fortunate I have the opportunity to be able to work. I don't love my kids any less because I work. Many don't have the chance to get back into work after having bubs, and I am always trying to find ways to assist these mums and give them the gee up they need to find their passion and even start a bit from home if need be. I think it's good for kids to see their mums involved in something other than them as well. I want Jude and Clementine to be proud of what I have created and it has allowed us to have great holidays! I have to consciously stay focused when I am present with them, that I'm not on my phone when we're having time together. This is probably the hardest part of the gig. The separation between work and kids. I've always struggled with drawing the line because I can always do 'one more thing' for IHB. Being present (it doesn't have to be hours a day) with kids is what matters. Being fully entrenched in their world sometimes.
The best advice I was ever given by another mum is …
My sis in law said to me once 'rushing a child is the opposite of love'. This advice hit me in the heart straight away and has never left. I am always rushing around and I just think how many times we say 'come here, put your shoes on, pick that up, get down, close the door' and it's always rushing. You can never be loving when you're rushing. Think about it. The sentiment comes from the book 10 Things Girls Need Most by Steve Biddulph. His quote about rushing is much more refined. He also wrote Raising Boys and Raising Girls. If you have time to read, they're well worth it.
What do you most love about working parents?
They're warriors, they're my heroes. I love that you can be one person with a multitude of skills, talents and passions. I meet earring makers that do so many other things on the side, and I find women fascinating in that respect. We're not just mothers. I also can't believe we can go from feeding the kids, to scheduling Instagram, to then getting the kids to swimming, to then pitching an idea to a client. It's a constant to-ing and fro-ing but I wouldn't have it any other way because it drives me to keep learning and growing.
OK, so we are in desperate need of your fashion tips! What are your wardrobe staples for busy working mums?
You know what piece is underrated? A long-printed kimono. You can dress it down with jeans or you can pop it on with a dress underneath. There's a certain elegance to a kimono. And it's nice when we'd like to feel covered too.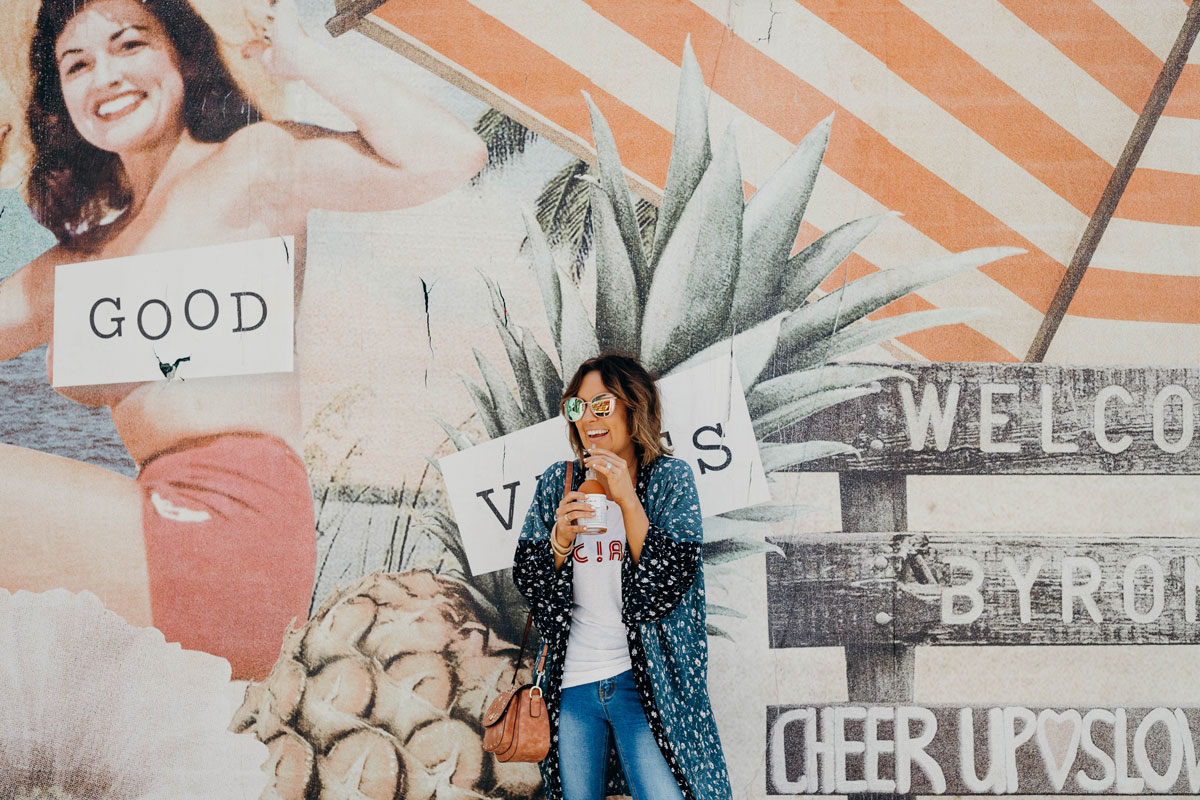 Favourite time of the day is … the kids' bedtime. Sorry but it's true. When the house is quiet. That's my fav time.
Instagram sites that inspire you … @jetsetmama (Claire is so spectacular at content), as is @zotheysay, @carolinehirons (for pure entertainment value), @nadiafairfax (fashion inspo), @trashtotreasured (my most fav bargain blogger).
I'm happiest when … I have a fresh spray tan. Ha! In all seriousness though, I'm happiest when my little kids and hubby are happy. We went for a swim in a water hole recently and it was the best. No phones or distractions. Our faces were all lit up happy to be together, in nature.
I'm addicted to … well, Instagram and UNUM (the scheduling app for Instagram which allows you to shift all the tiles around) … and reading way too late into the night. That's a good thing though, right?
Favourite wardrobe staple for work … my jumpsuits. They are so flattering, and suit my body type. You can pick so many up for under $100.
Favourite wardrobe staple for weekend … head scarves at the moment. You can totally change the look of a somewhat boring outfit to something cool by knotting a scarf into your pony/bun.
Heels or flats? Flats on most days. Heels on special occasions, of course.
Discover more Real Stories from our Circle In community HERE.