Jacqui Cummins didn't think she had postnatal depression. The bond with her newborn was strong. She was functioning day-to-day, and everyone in the household was fed and watered. But too high expectations (set on herself!) and fear of failure and disappointing her family led Jacqui along a bumpy road and to a confronting conversation with her GP. Here's Jacqui's brave account of her journey to a postnatal depression diagnosis, and how she faced the challenge of adjusting back to work after parental leave.
Shortly after giving birth to your second child, you started to suffer symptoms that were more than just the post-baby blues. Can you tell us a little bit about that time?
I was diagnosed with postnatal depression and anxiety (PNDA) about four to five months after our son was born. This was a surprise to me as it wasn't an immediate issue after the birth. 
When we first came home from the hospital I felt really good. I was positive about being able to manage the transition to two kids. The baby was feeding well. My eldest child was sleeping through the night. I was feeling strong and with the mindset: I'm going to be okay!
It was about two months in that I felt things were starting to unravel. The elastic band of resilience was not snapping back as quickly as usual. I was much more emotional and irrational. 
But, interestingly, the overwhelming emotion I started to feel was confusion – like my brain had stopped working, but in a way that felt more than just 'baby brain'.
I couldn't figure out if I had done things or not (have I changed his nappy?; did I have a coffee this morning?), and then it started to get worse (he's got a temperature; should I give him Panadol or wait a little bit?). And at the same time I kept on thinking: hang on a second; you know how to do this; you have been through this before. But for some reason, the combination of a different baby and already having a little one led to this complete confusion that I couldn't seem to overcome and I simply felt everything was failing around me.
To add another layer, my husband's work really ramped up so I tried to pick up his share. He was  working long hours, and I wanted him to rest so he could be the best he could be at work – so I would get up for every cry, feed, nightmare, or midnight toilet run because our daughter didn't 'need' to wear a nappy at night anymore (facepalm!).
Very quickly, I went into a deep depression. I became resentful of my husband for being able to go to work, I was short with my daughter, and I cried… a lot.
By this point, I had been to all of my postnatal checks, and flown under the radar. I had completed the PNDA surveys without raising any red flags. It was around this time that I was taking my son to the doctor all of the time for some very valid (?) reason or another. It was at one of these many doctor's appointments that my GP asked me to test for the Edinburgh Postnatal Depression Scale (EPDS). I had answered about half of the questions (on autopilot) when she stopped me: "You have been in my office for 45 minutes in tears, Jacqui. You need to put how you are feeling in context when you are answering. You're not listening to yourself."
At that point, what did you know about PNDA?
I knew about PNDA, though none of my friends had had it – that I knew, at least. I had seen the ads on TV and thought I knew the signs. But I did not identify with it because what I was feeling was not impacting my relationship with my children – I love my kids!
It really wasn't until my GP had that reality check conversation with me that I actually put two and two together. I was suffering – I was trying to do too much – I was failing and I was very confused – I just wasn't who I thought I was or wanted to be.
And how did you feel after having that conversation with your GP and receiving a diagnosis of PNDA?
Before that conversation, when things weren't stacking up, I was nervous about telling my husband how I was feeling. Looking back, I was horribly depressed, but at the same time I could mostly function; I was feeding and caring for everyone in our household, and I had bonded with our son. So I kept on questioning myself; telling myself to 'get it together'.
And THIS is the crux of what made identifying my own postnatal depression so difficult. It wasn't about loving or connecting with my baby; the trigger for my postnatal depression was the identity crisis I was experiencing, and the fear of failing my family because of loving them so much.
The trigger for my postnatal depression was the identity crisis I was experiencing.
What support did you receive and how did you find it?
My GP was my first line of support. 
Then I went and saw a psychiatrist specialising in PNDA (first weekly, then fortnightly, then monthly). She was AMAZING! Not only did she help me through this period, we spoke about so many other things that have enormously helped my self esteem and confidence, and given me a deeper understanding of me: how I am, what makes me tick, and that above all I am an individual before I am a wife and mum. I learnt that I must take care of myself, and that means sometimes looking after 'me' before my family or work. I still really struggle with this, to be honest. Especially in times like those we're experiencing now during COVID, I want to help people. But I now understand that if I don't help myself, I can't help others.
Is there anything that you feel may have contributed to your experiencing postnatal depression?
I had a fairly normal pregnancy with my son (if you call nausea the entire time 'normal'). I had an emergency C-section with my daughter, and a planned C- section with my son which, although I was scared, was a really great experience. The recovery was much better than I imagined.
So, I can only put it down to my own expectations. The fear of letting my family down, and wanting to be the perfect wife and mother and friend and daughter and daughter-in-law and and and…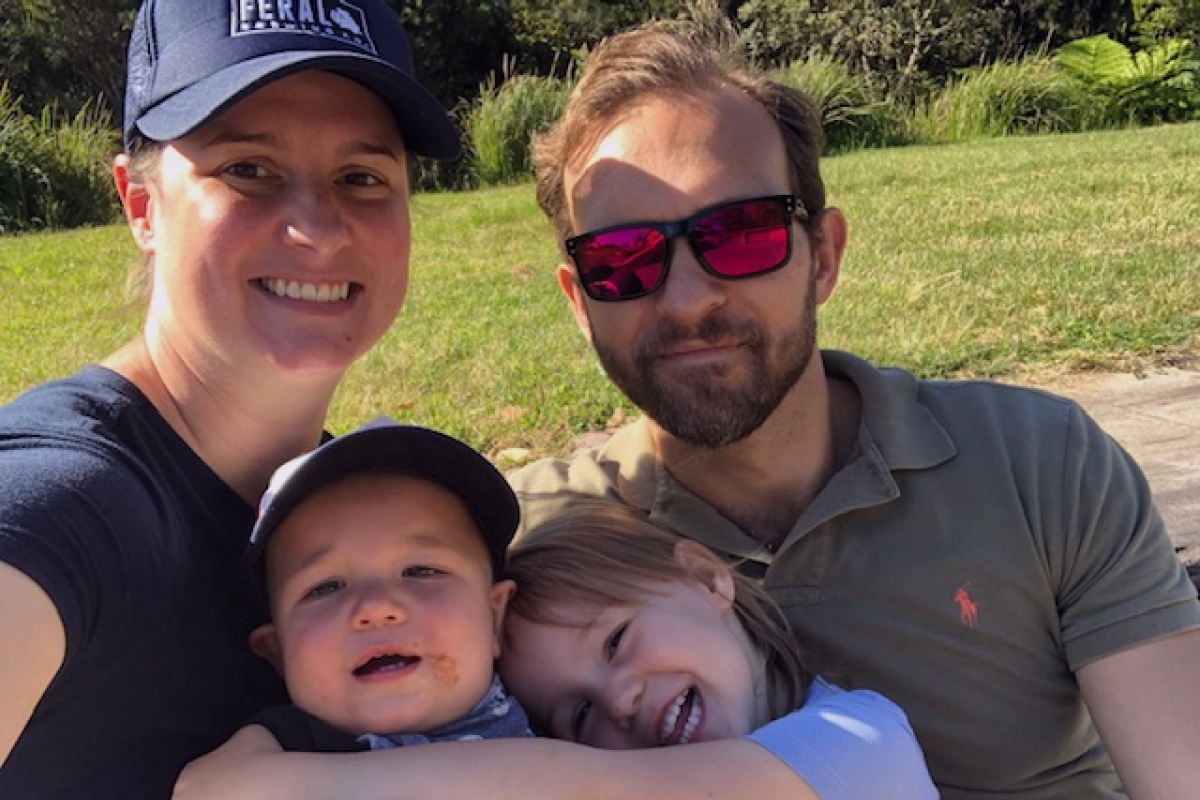 Did you speak about this with your manager before you returned to work?
Yes, I did. I absolutely wanted to, because I had learnt so much about myself and was clear in terms of what I wanted to sign up for when returning to work.
For me, my job is a big part of my identity. I needed to go back to work. I needed to feel valued and recognised in a different way to how I was at home. I needed to get back to feeling like myself, and that came from getting back to work.
Can you tell us about your return to work and what support you received?
My return to work was mixed.
There was only one way I knew how to get back into it and that was to dive in and figure it out. It didn't matter how many people told me it would take time and to go slow; I was determined to prove them wrong – that didn't apply to me. Surprise, surprise – it did take longer than I thought it would to adjust. I had a few knocks, but I also learnt a lot, like figuring out when to lean in and when to lean out (advice that had previously gone out the window). And I started listening when people said be kind to yourself.
I also got up the courage to reach out to a couple of female colleagues who I admire greatly, and asked them if they would be open to having a (virtual) coffee. I explained what I had gone through and that I wanted to pick their brains on how they went about defining their purpose, both personally and professionally. This, I must say, was the underpinning of helping me re-find my feet. Knowing these amazing female leaders were available to support me really helped my confidence.
The only additional thing that might have helped me in my transition would have been having the opportunity to speak to someone at work who had been through this too. Someone I could talk to without the fear of judgement (or being felt sorry for, or being treated differently), and say all of the crazy fears I was having and normalise it.
What advice would you give to other parents who might be suffering with perinatal depression or anxiety?
You're doing GREAT! Facing all of these long hard days as bravely as you can. You're really doing great.

You can be a strong and ambitious woman and still struggle with mental health.

There is

NO definition or picture of what this mental illness looks like. 

Don't put so many expectations on yourself.

Talk to your GP. Reach out for help. EAP services can support you.

The only person that can navigate through this is YOU. Be brave enough to know that you don't need to just push through, and recognise when you are not your normal self.

Telling people gets easier.

Understand that people gave me this advice too, and I thought I didn't need it either…
This moment in my life was so uncomfortable, so painful, so scary and confusing that it forced me to grow. I hope there was something small that you took out of my experience that has helped you or a loved one.
A couple of quotes I am reminding myself of lately:
"You learn more from failure/suffering or pain than you do from success… it is a much more lasting experience in terms of its impact, shaping and ability for you to grow and move forward." – Poppy King
"When you say 'yes' to others, make sure you are not saying 'no' to yourself." – Paulo Coelho
My career journey… I come from a background in organisational psychology and adult education, and I have 15 years' experience In HR across telecommunications, financial services and FMCG. I'm passionate about change management, career development and wellbeing.
When I need a good laugh… can't beat a night with the girls. I don't get to see them as much as I would like to, but they always fill my cup!
I would love to… be able to exercise more – but am also realistic based on where I am at in life at the moment (plus the kids are like weight training every day!).
I recharge by… scheduling in alone time, using a mental health day and going for a massage and having time to clear my head from all of the noise.
I'm inspired by… my mentors, my parents (wow! Now I really appreciate them) and my ever supportive family and friends.
If you or someone you love needs support, speak with a trusted health professional such as a doctor or maternal health nurse, or call PANDA's free national perinatal mental health helpline on 1300 726 306. For crisis support, call Lifeline on 13 11 14.
Discover more Real Stories from our Circle In community HERE.