Delightfully inspiring and full of surprises, Laura Conti epitomises modern motherhood. A chartered accountant by day and motorbike adventurer on weekends, this amazing mum returned to her desk as a financial controller after six weeks parental leave with only one regret—not preparing a comfier return to work wardrobe!
Laura chats to us about her awe of NZ's trailblazing PM, the joy of yoga pants, and the great man behind this great woman.
Can you tell us about your career journey?
I trained as a chartered accountant in Big Four, and quickly realised I was better suited to fast-paced, entrepreneurial businesses. I have built my career in small/medium business and innovation teams as a financial controller. I love the chaos of high-growth businesses.
Congratulations on being the proud mother to a beautiful baby. How has becoming a parent changed your perspective on life?
I expected the worst and got the best from my little Frankie. It is far easier than I imagined. I had no idea how much I could adore him. I was prepared for the worst, believing I'd have postnatal depression, have problems with attachment to him, and that I'd resent him for changing my lifestyle. But from the moment he was born, I've been smitten with him. I was adamant from the beginning of my pregnancy that I would have a caesarean, bottle feed and return to work quickly. I shouldn't have questioned myself. I knew that those decisions were best for me and my health. My son and I are happy and healthy.
The experience has taught me to trust my instincts, and that parenthood is a beautiful journey when it's done on your terms, in the way that works for you.
How did you find returning to work after parental leave? What was the most surprising thing about returning to work after six weeks?
I thought I'd organised everything. I had read all the books and listened to all the obscure advice, but it never occurred to me that I wouldn't be able to fit into my old work clothes. In hindsight, of course you can't just have a caesarean and put your pre-pregnancy jeans back on!
I hated maternity clothes and wanted to wear 'normal' clothes again. I didn't have any 'transition' clothes for my return to work, so every morning I would stand in front of the mirror in tears with nothing to wear. I wish I'd prepared a wardrobe of comfortable and stretchy clothes in advance. I spent a fortune on lululemon yoga pants, and I wore them paired with oversized t-shirts for five months while my scar healed.
Your husband stayed at home with your baby for a year so you could return to work. How did you find the transition? And what advice do you have for other parents who are considering doing the same thing?
Don't be the only person who can care for that baby! Four-and-a-half of my six weeks of parental leave were spent in hospital, as Frankie was born at 34 weeks. It was frustrating at the time, but in hindsight a blessing. My husband was able to learn how to parent in the special care nursery with a lot of support. It was intimidating for him to be given the baby and expected to know what to do. I had no idea either, but I had other women around me to guide me. There aren't many fathers who can truly say they've taken full responsibility for a newborn. As a newborn, Frankie had two parents who could equally care for him. I had nothing to fear in going back to work. My husband was competent and my baby was happy.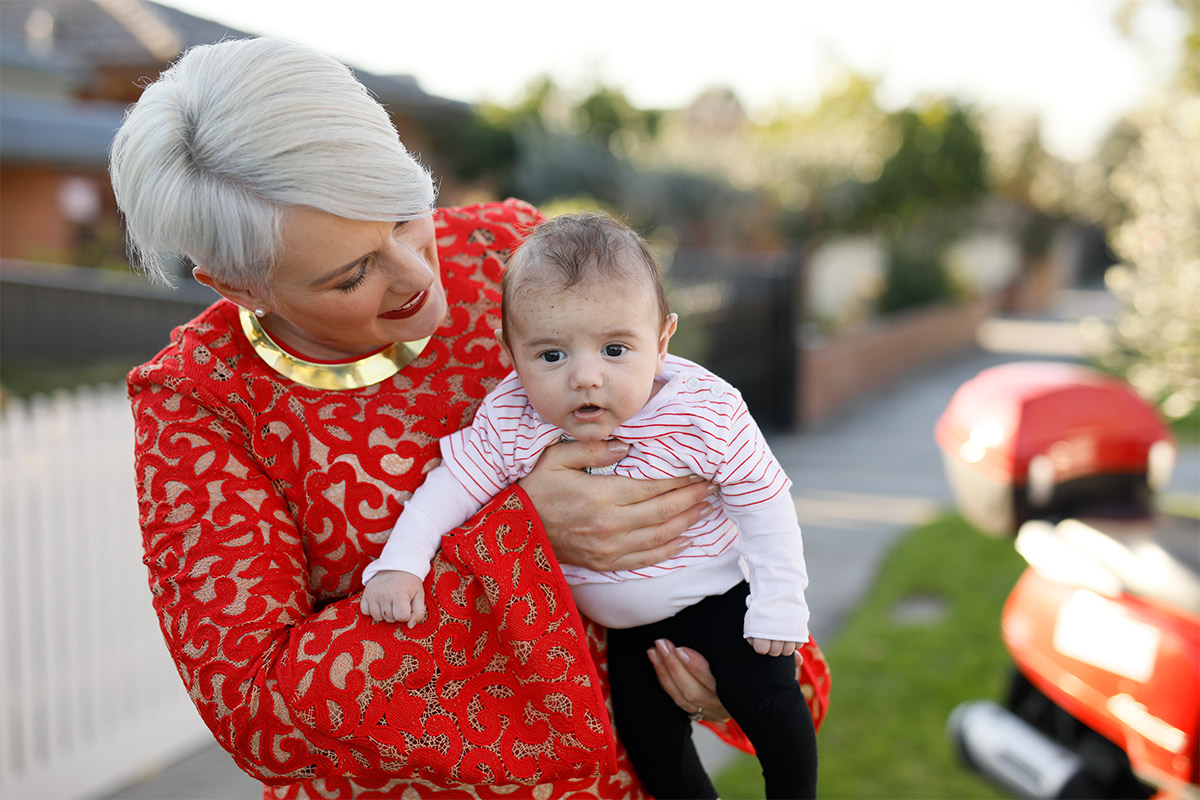 Jacinda Ardern,  New Zealand Prime Minister, also returned to work at the six-week mark and is considered a role model for many other working mothers. What are your thoughts on all of the media attention she received?
I was so chuffed when the media reported that Jacinda Ardern was due at the same time as me AND going back to work in the same timeframe. The media attention was great—it reiterated that there is nothing wrong with women's brains, and it's perfectly possible to go back after six weeks. Sure, it requires an industrial level of preparation, but it's possible. 
Jacinda obviously has the support of her partner, as do I, which is key for it to work. I would hate for six weeks to be the norm/expected though. It's not for everyone, and it has to work for you and your family.
What do you think the biggest barriers are for women to move into senior leadership roles? What needs to change? What can be done to practically support women?
The biggest barrier, in my opinion, is people in positions of leadership who tend to view women as 'problematic' for taking leave, asking for flexible working conditions and challenging the status quo.
One practical way the next generation of men will be able to understand the complex responsibilities women juggle would be for more men to stay home and be primary carers of their children. Then they would go back into the workforce with greater respect for the workload many women carry.
Favourite time of the day is…dinner time, when I get to sit with my favourite people and yell at the cat.
Instagram sites that inspire you…I love art! My favs are @nailsyall (nail art salon in Austin Texas. It's amazing!); @art.ark (ethical indigenous art); and @bush_medijina (wild harvested indigenous food).
I'm happiest when…I'm riding a motorbike (see @crazyladyadventure).
I'm addicted to…eBay. I refuse to buy new baby gear. 
My role model is…Maya Angelou.
Photography by Imaginarium Photography
Discover more Real Stories from our Circle In community HERE.