Alison Long is a mother to two gorgeous girls, owner of the most stylish and incredible fashion business Feather and Noise and inspiration to so many working mamas. She is proud of being a brave soul and her advice is to always dream BIG and work hard, but PACE YOURSELF. She opens up about the juggle, what she is most proud of and what she would never do again.

You're a working mama yourself and founder of Feather and Noise. What do you love about working mamas?
I've always found the term 'working mamas' an interesting one! Many of us mamas would agree we are always 'working' right?! It's just that keeping our babies fed, toddlers entertained, staying on top of the washing and maybe even getting some meal prep accomplished doesn't exactly pay us weekly, or fortnightly, or contribute to our super funds, or EVER! Ha!  However, I have always strongly felt that being a mum and caring for our little people are classified as 'work'! …. But throw that other type of 'paid work' in the mix and WOW that's a whole other ball game! You know the type of work where you 'work' for 3 hours from 6AM-9AM wrangling small people to get them ready (and yourself ready), multiple drop offs, an outfit change because someone's little vegemite fingers touched your work shirt all before you arrive to your 'real' work!
SO to answer to your question 'What do you love about working mamas?' … WELL I love the passion, the determination, the drive, the multiple cups of coffee we survive on to make it all work!  I love that working mothers can cope with a determined toddler having a complete meltdown at the front door of a childcare centre, to have your small person cling onto you like an injured animal, to then be able to let a childcare worker peel them off you, only to bolt back into your car, have your eyes swell up with tears, heart race a million miles and somehow pull up at work, put on a big brave face, shake it off and completely NAIL that morning meeting, finish an important deadline and high five all of your team mates! I mean we LOVE to work don't we? We LOVE and thrive on the fact that we can continue to tell ourselves that we can do it all!  That's what I love about working mamas.
You have achieved so much, but what are you most proud of?
I'm proud of myself. I'm proud of my little girls Indi and Maya. I'm proud of my husband. I'm proud of my beautiful F+N team, which are like family to Brett and I. But most of all I'm proud of being a brave soul. I've taken risks, I've signed commercial leases, I've grown out of spaces and signed much larger commercial spaces.  2017 saw us expand our three levels of our F+N HQ's into five levels, we've grown our team from just myself to a team of seven full time staff members, three casuals and multiply contractors. I've designed many exclusive lines and development many incredible pieces for our collections. I've braved the camera to be the face of campaigns, we've managed to stay consistent with our regular Friday night edits which our followers HANG out for now!
I'm proud that at the beginning of 2018 F+N will officially be FIVE years old! Yep, I started with a one year old at my feet and pregnant with another! Crazy times, but I wouldn't have it any other way!
We would love to know what you would never do again?
I would never work myself quite as hard for such a long time before employing staff.  I lost almost 10kgs from my already small frame and suffered from the most painful and persistent mouth ulcers, (so sorry if that's too much information or if you're reading this over your lunch break) but to the point that I couldn't chew or eat any solid food, I couldn't read books to my little girls at night because my entire mouth was a complete mess, I would try my hardest to keep reading that third book they desperately wanted with tears rolling down my cheeks from both pain and exhaustion. I literally couldn't talk, (and those that know me, know I LOVE to talk!) it lasted months, I put on a brave face, but I was burnt out and exhausted.
So yep, pace yourself mamas! Always dream BIG and work hard, but PACE YOURSELF! Know when you need to ask for help, know when you need to outsource, know when you need a break. Know when you need to turn away from social media for a while, either because you are too busy comparing yourself to others or simply because you are losing way too many hours a day to it. And not in a good way – ticking boxes – sort of way! In a procrastinating – lost 2.5 hours scrolling – it's 11.52PM – I should be in bed way – kind of way!  Your business is YOUR business for a reason, so with that it gives you choices, your career is your own choice, your family is your own choice, your work hours are your own choice, AND that should always be your number one priority. So never work yourself too hard, because you never want to burn out too soon. Or you might just end up tossing in everything. PACING yourself is king to your success.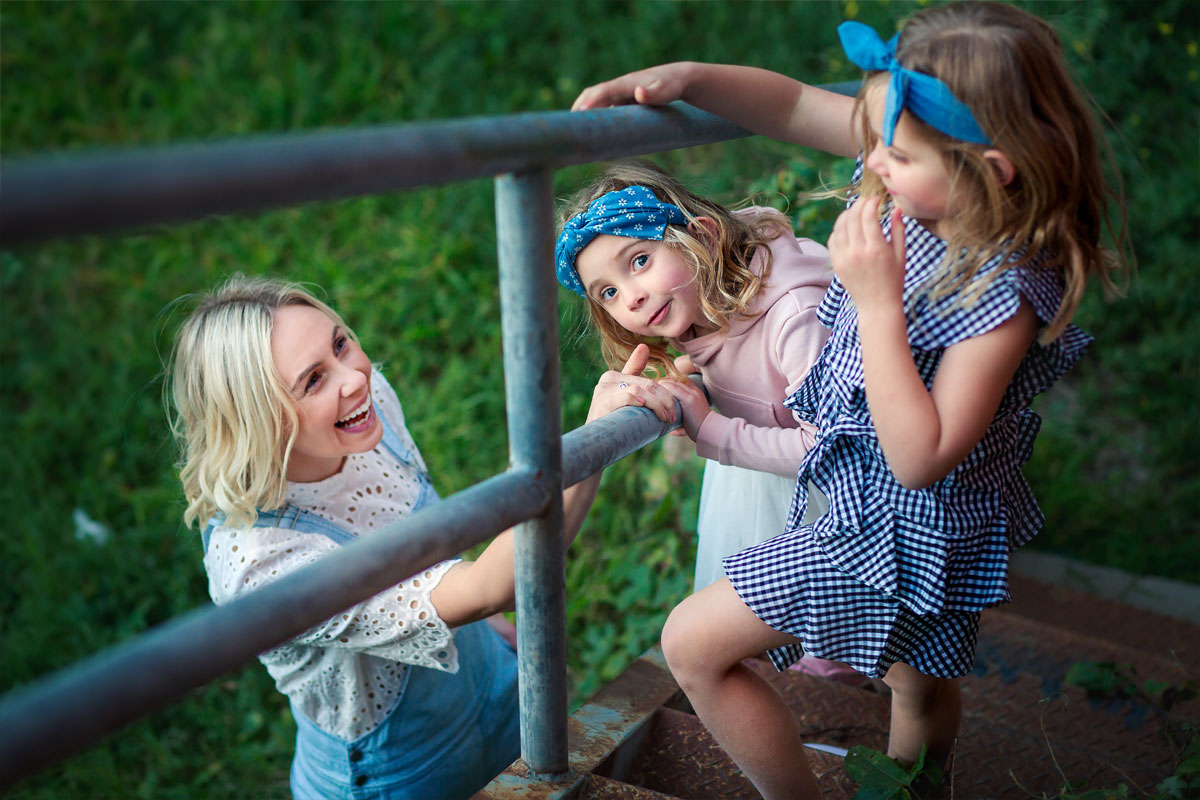 This career and motherhood thing is tough. How hard is managing both on a scale of 1 to 10?
Um, let me think … TEN! Ha! I honestly believe the number begins at 10 when your children are at their youngest. When they are the most dependent on you.  When you are still feeding them around the clock and settling them for what feels like 3+ hours every.single.night! However ironically it was during these early baby days up late feeding my daughters when I felt the most driven to start something that I could call my own. Something that would set me up to be my own boss, work my own hours and be there at a drop of a hat for my girls.
Fast forward to my girls being 4.5 and 6 years old and that high number definitely begins to drop ever so slightly. They start childcare, they go on to pick up extra childcare days, they begin kinder and then school.  I mean these January school holidays mine even stopped being walking zombies at 6.10AM and walking into my bedroom demanding either my phone, an iPad, toast or TV! They actually hightailed it straight out to the kitchen, the eldest helped the youngest make cereal and well the rest I have Netflix to thank for for my 7.25AM sleep ins!  So it definitely gets easier and that number drops mamas significantly, so keep striving for success and a career in a field that you are truly passionate about!
Favourite time of the day is… 9PM, my house is silent and sleeping. Including my husband who is in bed around an hour after the girls! (he's an early riser … like 4.40AM!)
Instagram sites that inspire you… @mon_palmer currently as she is an incredible garden designer and I'm currently obsessed with getting our backyard looking really amazing. We have a LONG way to go! But pinch myself every day that we managed to buy a house with such a huge yard in our dream suburb Yarraville.
I'm happiest when… my kitchen is tidy at the end of the day, I've lit a candle and made a herbal cup of tea.
I'm addicted to… Instagram, Real Living magazines, Mecca Maxima, almond milk, fresh sheets & sleeping in our Walker tee's! #SoComfy
Favourite wardrobe staple for work… My exclusively designed Zephier Jumpsuit!
Favourite wardrobe staple for weekend… Peta Jumpsuits (in all 3 colours!) … are you sensing a jumpsuit pattern here?
Heels or flats? Flats, and always leather!
Follow Alison on Instagram @featherandnoise or visit her site