In the digital age, it can be easy to prioritise innovations in technology and lose focus on people and processes. But as the saying goes, an organisation is only as strong as its people, which makes building understanding and tolerance among team members a must-do for success.
Tanya Windscheffel is a female leader in IT, driving conversation about family and career. In creating a safe place where colleagues can share stories about the realities of family planning and working parent life, Tanya is encouraging her industry to strive for inclusiveness, diversity and parental leave best practice. In this very real account of parental leave, Tanya shares her anxieties and joys following the arrival of son Harrison, and top tips for managing parenthood and career.
Can you tell us about your career journey to-date and about your current role and responsibilities?
I have been really fortunate to fall into an industry I didn't know I wanted to be a part of when I left school. I played to my strengths all through my career, taking a few risks along the way too. 
Starting out in contact centres and working my way into continuous improvements roles led me to love systems and IT problems, and that is where I still find joy today. Building great software for customers, working with super intelligent people who teach me something every day (and hopefully I do the same for them), and thinking about systems of all types, and optimising where possible. I love getting things done.
I am currently Platform Development Manager at MYOB, and before this was Delivery Lead at REA Group, so have been around some truly amazing people. I love coaching and mentoring people to grow themselves and those around them; it's the best part of my job. I have a passion for breaking some of our stereotypes in the IT industry and working hard to resolve a number of our current diversity challenges. People are the most important and we must not forget this in the age of technology.
How did you feel about returning to work?
Terrified…anxious…nervous…excited.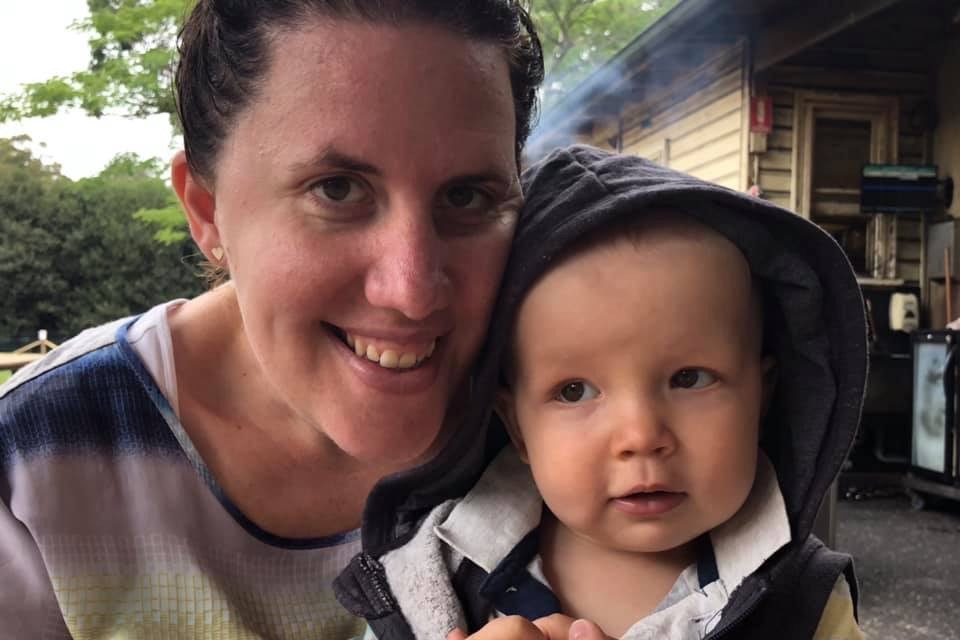 What were the biggest challenges you faced in the first few weeks of returning to work?
Pumping at work. I was still lucky enough to be breastfeeding my son, Harrison, yet had no idea how awkward this was going to be logistically, even just talking about it in the office. We have a long way to go to normalise this.
The mummy guilt. Getting those photo updates from daycare where Harrison was smiling and making friends. I knew it was the best place for him and the best place for me as well, but it was so much harder than I thought it was going to be. That mummy guilt is a killer.
Meeting all the new faces, and the sheer fear of having to build so many new relationships and networks again.
Any parenting tips you would like to share with other parents who are about to embark on parenthood or about to return to work?
Take one day at a time.

Communicate with your partner and support network.

Dont be afraid to ask for help—It does actually take an army to raise a child.

You will never be able to actually understand the advice people are giving you until you are in that moment, so listen to it all and refer to it when the time comes. 

TRUST YOUR INSTINCTS—YOU WILL BE RIGHT. 

It is bloody hard work, but also the greatest gift. Roller coaster of emotions, but worth it all and more.
What would be the best piece of advice you would give to others who are about to go on parental leave for the first time?
It will be OK. Try to stay as present as you can, after all you are building life, and what a magical and amazing gift it is. 
I suffered from extreme anxiety at this stage of my journey and, at the end of the day, hindsight is a wonderful thing as everything was OK. Not perfect by a long shot, but it was OK. 
Find someone who can be your person that has been through it before. I didn't have this and I am determined to change this for the next person. 
What are your top three tips for managing career through parental leave?
Stay connected to your people. I did not do a good job of this and I didn't put enough emphasis on asking them to help me either. 

Let your manager in. Hold your manager to account, but also reach out when you are having a bad time. Thankfully I had a really supportive manager, but I didn't let him in enough so he really had no idea what I was going through, and therefore little insight into how to help me. 

Enjoy the time off with your newborn. I know this isn't career advice, but I was so worried about work, and missing out and being forgotten, I was not as present as often as I should have been. The mind drifts and the time goes super fast.
Can you tell us about the planning that went into your return to work?
I think I ended up with version 8.0 of the plan by the time I actually got settled back at work. 
I wanted to take six months off, but Harrison wouldn't take a bottle so I ended up taking 10 months off. I started back two days a week, but that didn't work for me. I tried three days a week for a while, too, but that also didn't feel right. I tried four days a week with Fridays off, but found being away from Harrison for four days in a row way too hard. So, now I work full-time hours: four days a week in the office, and the rest of the time as flex time throughout the week. This allows me to have Wednesdays with Harrison. The perfect balance for now. 
How do you share/manage the juggle of parenthood and work? What are your time management tips?
Planning. Planning. Planning. Then…winging it. Winging it. Winging it. 
Hubby and I play to our strengths. He is a night owl and I am an early bird. I am usually up before 5AM and arrive at work around 7AM so I can leave by 3PM to do daycare pick-up. 
Hubby, being a night owl, tackles the end of the evening and does drop-off in the mornings. It works for us and Harrison (for now). We find a 30-minute chat on a Sunday night to go over the week ahead and who is doing what is a lifesaver and a marriage saver. Communication is critical. 
Why is self-care so important and how do you look after yourself? What is your approach to health and wellness?
To be honest, I fail at this a lot. Being a natural leader of people, I am the first to put everyone else before me and not take my own advice. Luckily, I have a really stubborn husband when it comes to this topic. Thanks, Steve! 
However, over the last few months, I have been making a conscious effort to spend my 40-minute train commute to and from work learning something new or simply reading a book or watching a TED Talk. Sounds so simple, but when I look back on the months before I became conscious about this time, I would spend 80 minutes a day scrolling through my phone, adding no value to myself or those in my life. So I stopped. And I have learnt so much in this short time, I can't wait to see what I learn in a year. Not to mention, how much I am actually switching off whilst in this zone. I feel so energised from just focusing on one thing for that small window each day. 
I'm happiest when…the sun is shining and I have spent the day making great memories with Harrison and hubby Steve….and there is no washing to be done!
I'm addicted to…cross stitch, being super organised and eating gingerbread cookies.
My role model is…every working mum finding a way to get through the juggle each day. I had no idea what you were all going through until I joined the club. 
Discover more Real Stories from our Circle In community HERE.