Meet Dom Storey; devoted partner to Cara, dad to toddler Franki, racing car driver, Mercedes-Benz driving instructor and brand ambassador amongst other things…a varied job that's a little different to the norm.
We reached out to Dom because we loved his Instagram bio that puts his role as dad his #1 priority; Full time Dad. Part time AMG GT3 driver.
Can you tell us about your career journey that brought you to this point; racing car driver, Mercedes-Benz driving instructor and brand ambassador?
Since the age of two or three I've had a passion for anything with wheels. I would ride around on a trike skidding and sliding it on anything I could. At the age of seven I began karting and that has brought me where I am today in my racing career.
Throughout my career I've been very fortunate to spend time racing and living in Europe. I've met some great people along the way, including some who are now household motorsport names! There were definitely challenging times when I could have given up and altered my career path, but I was determined to stick to my dream and achieve my goals, and enjoy every single moment along the way.
In addition to racing, I work with Mercedes-Benz Driving Events as a driving instructor. It's a great balance to racing life! In an ideal world a driver would race every weekend of the year, however that isn't how the racing seasons work and, in addition, the costs of competing are so high. At the end of the day, I get to travel and enjoy nice cars on race tracks around Australia, New Zealand and Asia, meeting great people and, a few times a year, I get to drive and race in a dream car: a Mercedes-AMG GT3.
We love your Instagram bio that puts your role as full-time dad first, followed by your day job. How do you manage the juggle of being a primary carer and your work commitments?
Well, it's because I am a dad and that's my primary role. Working or not, being a parent is a full-time responsibility.
I find the juggle a bit of a struggle to be honest. It's the travel away from my family that pulls at me, but I love my work and my family, so I'm learning to balance. My partner, Cara, my daughter, Franki, and I spent Christmas and a period of time after that on holidays with extended family. It was cool having such quality family time, but it also makes the separation more difficult. I'm about to spend three weeks a month away from my family, commencing in April. That's just the nature of my career, however the beauty of technology today means we have methods of staying visually in touch such as FaceTime. It definitely helps families in our situation!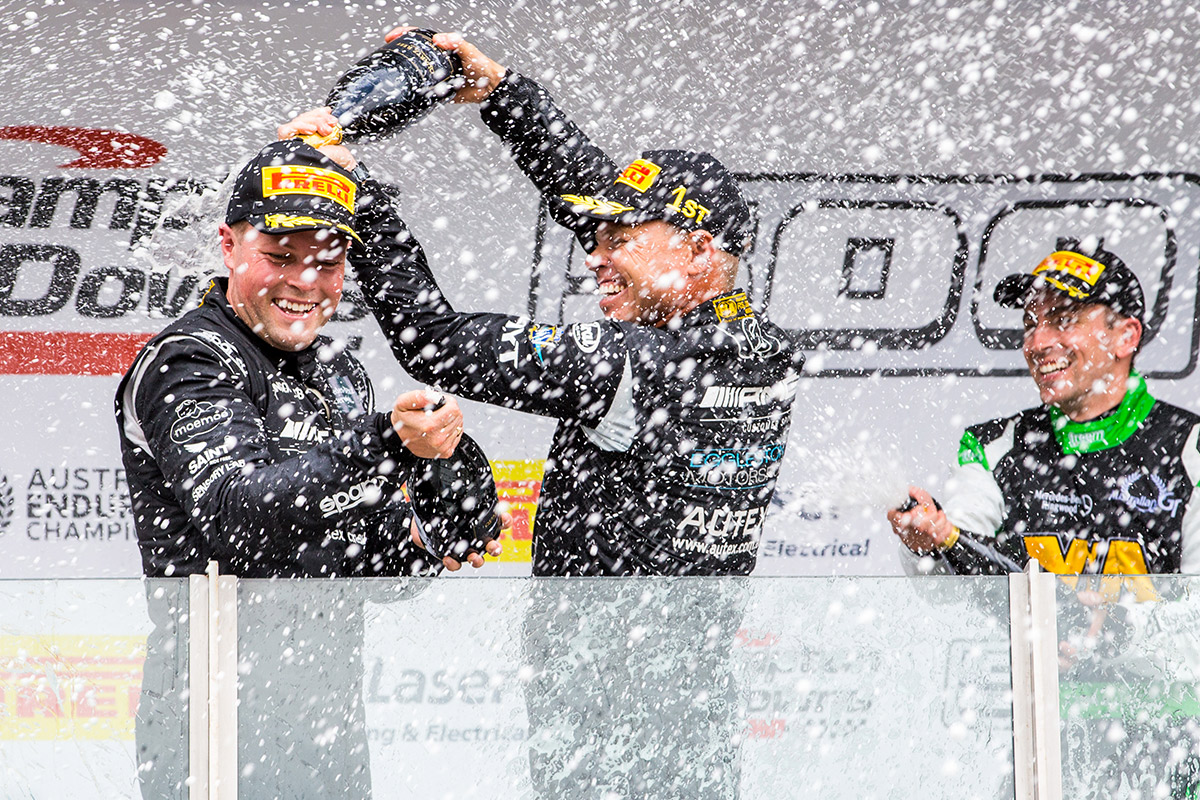 You and your partner, Cara, have a gorgeous toddler, Franki. Can you give us an insight into your family life?
Yes, Cara is an incredible mum; very capable and independent, which makes my life much easier with all of the travelling. When I'm home though, we stick together as a family and enjoy every minute. Family has always been important to me, so we want to ensure that Franki experiences the same. We spend our weekends at the beach, in the pool or scootering around. Cara is an awesome cook, so we prefer to eat in these days and watch endless amounts of Netflix series!
What does your typical workday entail?
When I'm not working, I'm working! Racing doesn't just happen and doesn't come easily. It's a passion more than anything, and if you get good at it along the way then that's a bonus. Unfortunately, with the landscape of motorsport relying on sponsorships, and so many sporting codes fighting over the same dollar, the job becomes even more difficult. I look after and manage all of my own sponsorships and have done for a while. When I'm not working as such, I continue to network and look after my sponsors in the best possible way. It's difficult getting people involved at the start, and it's sometimes even harder to keep them involved, but that's just the nature of the sport and the business we are in.
I have recently become an ambassador for Mercedes-Benz Melbourne, to engage with their Mercedes-AMG owners—so this is super exciting, and they have some great things in the pipeline.
My workday isn't really typical because it's always changing and always different. I could be in Sydney working on a Mercedes-Benz driving event one day and racing in the Australian GT Championship at Phillip Island Grand Prix Circuit, Victoria, the next. When I do have time off though, I spend it as effectively as possible, networking and doing some exercise!
How did becoming a dad change your perspective on career and life?
Becoming a dad changed me overnight. It gave me a lot more self-belief and motivation to have a go. When you have the responsibility of a child you don't just exist for yourself anymore, you have to provide for her and find the opportunities. I'm definitely more driven now than I've ever been.
What do you love most about being a dad?
I love the interaction and seeing the changes day-to-day. When I've been away for a period of time it's incredible seeing the changes and the development in Franki. She's growing up so quickly! Until becoming a dad myself, I never realised how much kids learn in such a short space of time—it's incredible to witness.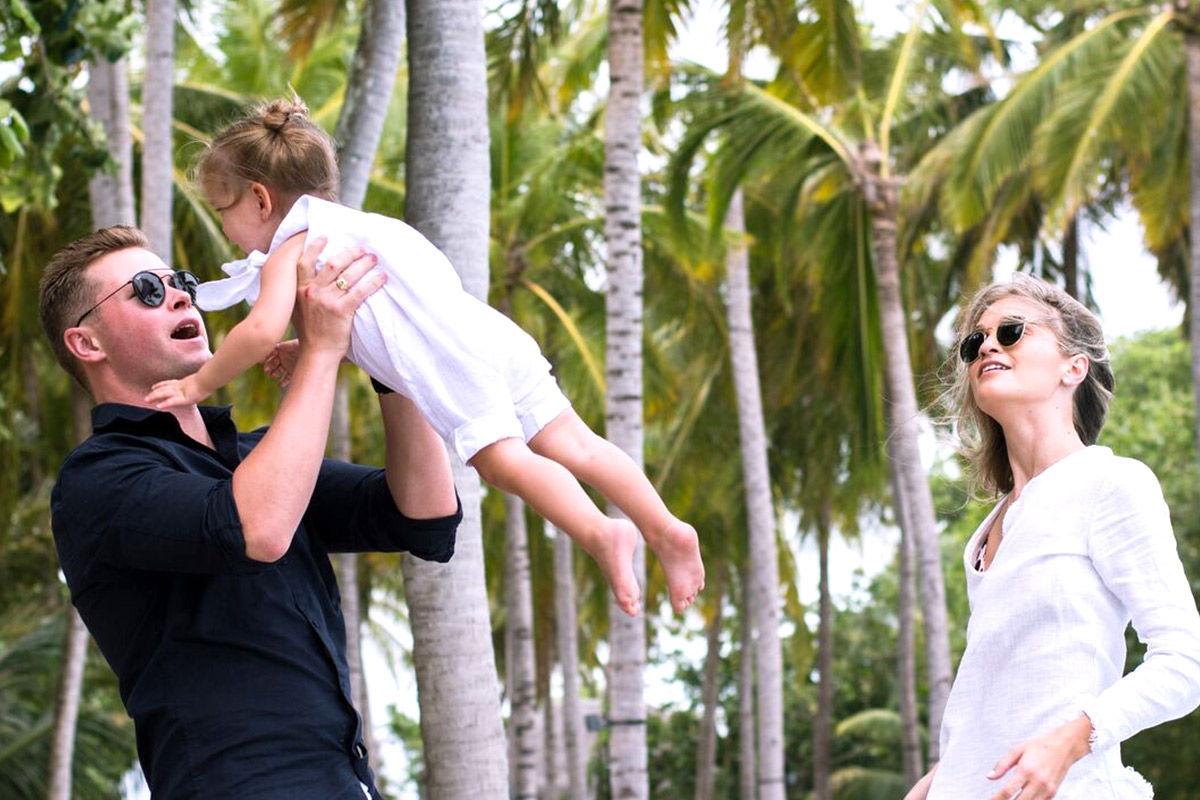 Your partner, Cara, works full-time. How do you share the parenting responsibilities and manage the juggle of family and work?
I can only speak for when I'm home as when I'm away Cara has to manage and juggle everything, and she does an incredible job at it. I'm lucky! It makes it extra difficult that my parents are based in New Zealand too! Cara's mum helps us one day a week, which is great. When I'm home I'd like to say I help as much as I can, typically I drop the girls off (Franki to day care, Cara to work) and then I set about my day. At night it's much of the same really: Cara looks after dinner for Franki and we both put her to bed, and somewhere in between that we prepare our own meal! As I'm away so much we don't really spend a lot of time on our own with Franki unless there is something on. Our weekends are mostly together as a family.
No doubt you travel a lot with your roles; how do you stay in touch with your family when you're away?
FaceTime is definitely the easiest. I speak with Cara and Franki every day: morning and night. I keep in touch with my own parents back in NZ most days too!
In your racing off-season, how do you spend your time?
Last year was my busiest year yet. I spent nearly 200 days on the road, raced ten weekends and did nearly 180 days of driving events. I didn't add it up exactly, but there would be around 60 flights involved in that too. The summer just gone I literally had some time to myself. I didn't really see anyone other than family for a good two to three weeks and just relaxed. I took on too much last year and I really paid the price in December. Over the break I've focused on my fitness and getting mentally ready for another year.
A racing car driver needs to be in peak condition; how do you find the time to stay fit and healthy?
This is something that I haven't managed very well in the past to be honest. I was really fit and healthy in my early 20s but since the travel and work commitments have stepped up, along with the responsibility of being a parent, this has slowly declined. I focused on it over the summer and I've got myself back to where I want, and this year will be about maintaining that on the road. Whether it's a quick five kilometre run after work or a hotel room workout, I need to do something every day.
In 2019 you're teaming up with Peter Hackett, driving a Mercedes-AMG GT3 in the Australian GT Championship. Congratulations! What goes through your mind prior to a race when you know your young family is watching?
This will be the fourth year Pete and I have teamed up; something that started with a handshake in January 2016. We have had some great moments along the way: winning a championship together in 2017 goes down as one of the best. Having family at a race is great. I've actually had my greatest races when they've been at the track…it must be the extra motivation!
What is the best career advice you have ever been given?
Don't listen to those who criticise because if they could do it, they would. Also, stick at it. I'm sure every career has its bumps in the road but, as I've found, all things happen for a reason and things will be OK in the end.
Favourite time of the day is … the morning! Franki is at her best.
I'm happiest when … waking up at home with no commitment to be anywhere or do anything.
I'm addicted to … coffee and motorsport!
My role model is … I don't really have one these days, it depends what day of the week it is…ha ha!
My website … domstorey.com
Discover more Real Stories from our Circle In community HERE.