There's a subject the working world doesn't comfortably talk about, even though it can significantly affect the working lives of many employees. It may cause stress, anxiety, and embarrassment, and makes many people consider stepping away from the working world entirely.

It's time to talk about menopause in the workplace.
Want to drive change in your organization?
Download actionable guidelines for employers in the full report, Driving the Change: Menopause in the Workplace, here.

Nearly one in two working women experiencing menopause consider retiring or taking a break from work, Circle In's latest research has shown. 
Driving the Change: Menopause and the Workplace, a report compiled with the support of the Victorian Women's Trust, reveals the impact this 'taboo' subject is having on women in the workplace. 
83% of respondents told us their work was negatively affected. Almost half said they considered retiring or taking a break from work when their menopausal symptoms were severe. And 60% ranked workplace support during menopause as 'poor' or 'below average'. 
What was striking wasn't just the glaring statistics about a cohort of the working population whose needs weren't being met, it was the personal tales that weaved through these results: stories of isolation, lack of empathy, and absence of managerial support or understanding. 
"At times I experienced a sense of panic… which was difficult to mask in meetings and other professional settings, and during which it was extremely difficult to stay mentally present."

"My employer couldn't care less. In fact I felt I had to keep it secret as menopausal women are regarded as slightly dumb and can't be trusted to work effectively."
Workplace support during menopause 
Then there is the astounding business impact. Women experience the onset of menopause, on average, at around 50 years old. This means that a substantial number of them will experience menopause while still in the workforce. 
We found that while most women encounter some challenges during their menopausal transition, there is little or no workplace support to help them. 
Almost a third of respondents told us they felt disconnected from their workplace. Whether a manager seemed equipped or willing to assist largely depended on their gender, or their existing relationship with the employee. We also found that most people who haven't experienced menopause don't know much about it or how to support someone.
"The survey results and stories of women enduring physical and emotional suffering alone at work were shocking – imagine if we ignored pregnant women in the same way," says Circle In's co-founder, Jodi Geddes.
"Employees need to build a work culture that recognizes and provides support to those experiencing menopause, to help break down the taboo of menopause in the workplace." 
The report found that: 
The experience of menopause at work can be isolating and stressful 
From the outside, there's often no way to tell which of the women in your workplace are going through menopause – but the physical and emotional effects are significant.
During their experience of menopause, 73% of respondents told us their stress and anxiety were higher than usual. More than half (57%) said their overall confidence took a hit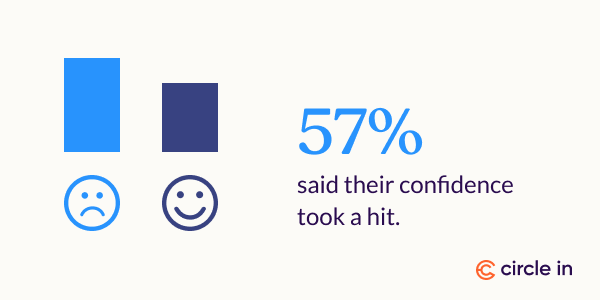 Workforce participation is often impacted
Lack of support for women experiencing menopause has severe impacts on employee retention, engagement, gender equity targets and organizational reputation.  
58% of our survey respondents said that managing work during their menopause experience was 'challenging', and one in eight women stepped out of the workforce when their symptoms were severe. However, despite these alarming stats, few employers around the world offer menopausal policies or leave.¹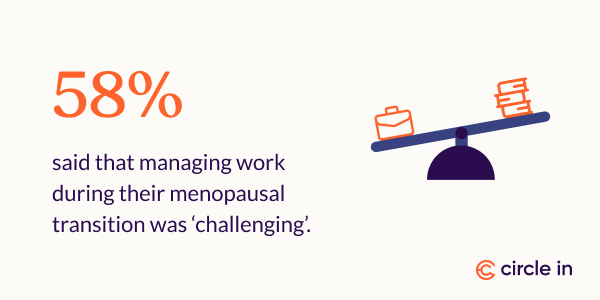 Managerial support depends (mostly) on who your manager is
A key factor in successfully supporting employees is equipping and informing managers.  70% of women who have experienced menopause would not feel comfortable talking to their manager about their challenges or needs, and both gender and age are mentioned as factors that inhibit employees from sharing their challenges.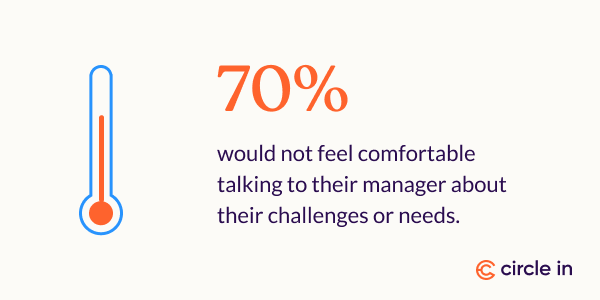 Knowledge and resources are scarce
Half of those that know someone going through menopause say their knowledge is low or non-existent. 76% that have experienced menopause would have liked information, advice, or access to a support network at work to aid them through this challenging period.
Isn't it time employers tried to deliver a consistent, positive experience for these employees? Isn't it worth showing them the support they deserve at every life stage? 
We say yes! 
Along with our findings, Circle In has published guidelines for employers, with suggested steps to inspire action. Click here to download a free copy. We hope that you will use this guide to create a more open, supportive workplace culture, and play your part in driving the change.
Source:
¹ Hall and Willcox, Menstrual and menopausal leave: from flexible work to best practice in gender equality and wellbeing in the workplace