The Australian government, in a very progressive move, announced an amendment to the Fair Work Act, guaranteeing parents whose baby is stillborn an entitlement to 12-months of unpaid parental leave. For something that happens to one in five women around the globe, we find that this topic is often skirted around at workplaces because of its sensitivity. Harvard Business Review notes that coming back to work after losing an unborn child is one of the toughest challenges life will throw at you. Let's talk about that.
It's great to support your employees in their joyous moments, moments when they're expanding their families, or celebrating a milestone… but what about when things don't go to plan? It isn't something everyone will experience, but how you handle it with the one or two employees who do, will make all the difference. 
Every day at Circle In, we speak with customers who want to go beyond policy and legislation to give their parents a more supportive workplace. We're proud to report that 50% of our customers, worldwide, offer paid parental leave or special maternity leave allowances within their parental leave programs to parents who have experienced a stillbirth or miscarriage. A few, like Arup and Officeworks already offer the full 52 weeks for employees who experience a stillbirth. 
With leave covered off, the next stage of the journey is the return to work. Employees who have been through this talk about their jitters from the week before their return date to the time they step off the office elevator. The rehearsed answers to unfortunate (and sometimes, oblivious) questions, the sympathetic looks and worse, being ignored by people who don't know what to say. They also report that a compassionate workplace was the key to returning to old comforts at work. 
Here are some ways you can welcome back a colleague who has just been through stillbirth or miscarriage:
1. Know what to say and do
This is the most important step. Managers and colleagues need to create a safe space for employees to return, share their grief (or not!) and get back to their everyday life. 
If you're their manager, lead with compassion. Allow them to lead the conversation and next steps (e.g. do they want you to inform the team? Do they want to discuss it at all?). 
Say simple things like, "I'm sorry for your loss" and avoid "at least" statements like, "at least you know you can get pregnant!"

Ask how you can help them – with their workload, communications with the team, etc. Try to open up your schedule to the extent possible to be available for them.

Have company resources on hand. Be aware of what your company offers in the form of leave and employee assistance programs. Point them in that direction during their first day back.

Offer moral support. It might help to meet them at a neutral location prior to their first day back to discuss this or even offer to meet them at a nearby coffee shop and accompany them into the office. 

Don't avoid the situation altogether and behave as though nothing happened. 
"We had a stillbirth in one of the teams and the manager did not know how to support or what to do. The Circle In platform provided some fantastic resources to help the manager. The employee went on to share their story on the platform, which would not have happened without the support of the manager, which would not have happened without Circle In. Huge thank you!"

Abbie Wright, Senior Specialist Diversity & Inclusion, Arup
If you're their colleague/teammate, a sincere "I'm sorry" can be all that's needed to show you care. Other things you can or should not say: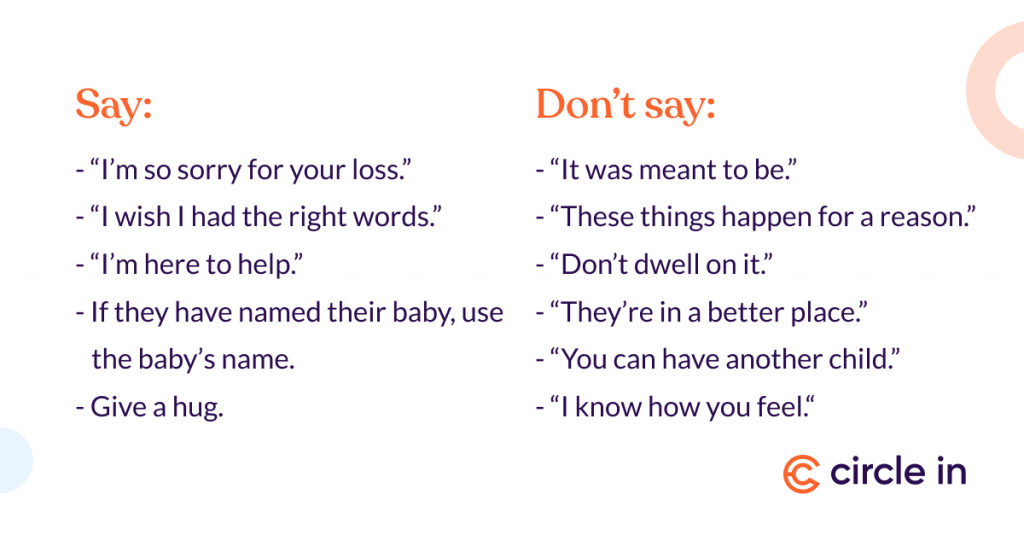 2. Don't assume that they don't want to be challenged at work
Coming back to work is one of the hardest things your employee will do, but by doing so they're saying they're ready to get back to "normal". Work provides a much needed distraction to many and it offers a sense of purpose when other aspects may not be going according to plan. Have an open conversation about how they're doing and be inclusive. Whether it's a new project or an upcoming travel opportunity, float it their way and leave it to them to accept or reject.
3. Don't forget the dads
It's a common misconception that only mums need the time off. Dads grieve too. And their role at home to support their partners and the rest of the family cannot be ignored. This is part of the wider workplace shift we need to achieve in acknowledging the emotional investment that dads have in this journey. Check in on them the same way you would a mum.
When it comes to supporting a colleague (or employee) through pregnancy loss,  you obviously mean well but at the same time don't want to do anything that could possibly offend them. Knowing what to say and equipping yourself with the right tools can be the difference between a great employee experience and a not-so-great one. When supported during these times, employees tend to feel more positively towards their companies, tend to stay longer and become advocates to attract great talent! That's a huge impact for supporting a small percentage of your people! Wouldn't you agree?
For more resources on how you can support your carers and upskill your managers, have a chat with us here.