We've all done it… compared our behind-the-scenes with another parent's highlight reel. But if it's internet realness you crave, you can always count on Erin Kim @TheMommingWorker to serve up the goods.
Juggling three littles under six and a corporate leadership role is bound to have it's tough days, and Erin makes no apologies for sharing the ups and downs of momming worker life. From adorable toddler moments, family adventures, laughs and inspirational pep-talks, to struggles, fails and self-doubt – it's all in a day's work for the fabulous Erin! Smashing career goals, setting boundaries and Broadway dreams – this chat has it all.
We love following your parenthood journey @themommingworker. You're juggling parenthood and a full-time leadership role. Can you share a little about your career journey with us?
I've been in human resources for the majority of my career – including experience in learning and development, talent acquisition and core generalist roles. I've worked at smaller boutique agencies as well as Fortune 50 companies, and have completed assignments across the globe, including in Los Angeles, Norwalk, London, and Boston. I am based in Boston now, working for a company where I've spent the last nine years. What I love most about my HR role is the opportunity to coach and connect with leaders at all levels and at all points in their career journey. I have a genuine curiosity about people and also take satisfaction in problem solving – which is perhaps a trait that all working parents need to have in their toolkit!
You're an HR leader in a Fortune 50 company. How have you navigated your career progression and having children? Did you find it easier or harder than you expected?
I've been very fortunate to work for a company that supports working parents at all stages of the parenting journey – before, during and after. I have been able to advance in my career 'despite' having three children in five years at the same company. Admittedly, I've found it a bit easier than originally expected. As I think about it, a few things made it easier for me. 
First, I have brought my full working mom 'self' to work since day one. I openly share my parenting victories, failures (I'm looking at you, sleep training) and adventures with my co-workers and team. I'd like to think that some of my authenticity has helped me be successful, and seen as 'real' and a trusted resource in a function where trust is such a critical component of all that we do. 
Second, it's this authenticity that has helped encourage me to be clear about what I want and don't want in a specific position or career move.
I think having the courage and clarity to say what you're looking for will help advance you faster [in your career] than if you're not as clear. 
Lastly, I have been lucky enough to surround myself with other working parents and leaders who support me and who I know want to see me succeed. Find those individuals and add them to your personal board of directors.
As a senior leader and a role model for so many in your organisation, how do you support other parents and caregivers who are following behind you? What impact do you think authenticity and openness about our personal lives has on workplace culture?
Oh gosh, I'm not sure about role model, but supporting others is absolutely critical! That's what prompted me to start The Momming Worker about two years ago. I wanted other working parents to know that they weren't alone. Working parents and caregivers need to continue to share their stories and struggles so that others don't feel alone. I often use the term 'linking arms'. Being a working parent in any environment is lonely, but add the current COVID-19 environment into the mix and it's a downright impossible challenge. I try and talk as openly as I can about being a parent – sharing little tips and tricks, human moments, recipes and laughs. Too often, especially on social media, we only see the highlight reel. I try to share the highlights and lowlights… my 'real reel', if you will!
What does a typical work day look like for you?
A typical workday… is there such a thing? Okay, let's talk about in the pandemic. 
I try my best and set an alarm clock so I wake up on my own timing. I heard someone say once that waking up on your own as opposed to someone else waking you up can have a huge impact on your perceived 'control' over your day. But let's be real, four out of five of my week days, I wake up around 5.45am to my 19-month-old shouting incoherent yelps from her crib. From there, I head downstairs to start coffee (for me) and breakfast for all three of my tiny humans and we eat while watching The Wiggles. Our amazing nanny, JL, arrives at 9am (8am during pre-pandemic!). We share 'life updates' with her, as we call them, and then my husband and I literally sprint off to our working areas for the day.
I am on phone and video calls for most of the day, typically back-to-back. When I have a few minutes, I rush downstairs to grab lunch, water or a snack. This typically results in complete tiny human chaos as I am stormed by all three who want to show me a picture, tell me about their stuffy nose, or cry with arms stretched saying "Up-Up-Up!". It's hard on a working parent (and the nanny/caregiver) to then have to quickly exit to head back into the land of phone calls and meetings.
I'm on calls until 5pm and have had to put up a boundary at work to not take calls after that time (unless on an absolute rare occasion). I relieve JL and start dinner, while multi-tasking, trying to answer those emails or texts that I didn't get to during the day. All while realising I'm still wearing my pyjama pants and that we are out of milk.
Bedtime routines start around 6.30pm and seem to last literally hours with multiple protests, requests for milk, books and backrubs. I head to the kitchen to eat dinner (read: a box of crackers) around 9.15pm and, after one last look at emails, collapse into bed at 10pm secretly hoping that tomorrow morning is the morning when my phone alarm wakes me up as opposed to my baby alarm.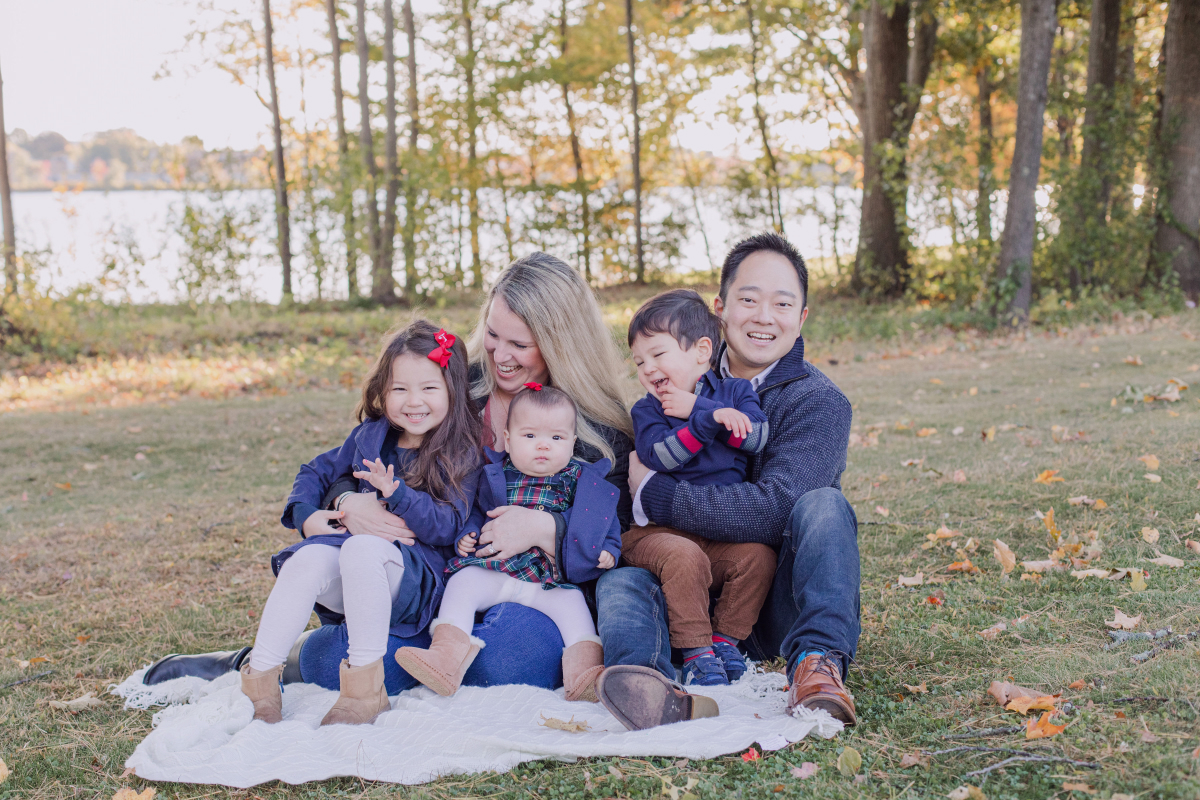 As the saying goes: It takes a village to raise a child. How do you share the work-life juggle with your husband in a practical sense? Who else do you rely on to support you with the juggle?
Pandemic or no pandemic, my husband has always been an equal partner in the working parent journey in every sense of the word. He cooks, cleans and cares for the kids in every way that I do. He is 'co-mayor' of our village, if you will. Another critical member is our nanny, JL. JL often stays late or comes early when we need her to. She masterfully comes up with creative adventures and activities in a time of social distancing – or even offers to pick up groceries for our family 'after hours' when she's doing her own shopping. She lives by the same positive mentality that we do (I try and tell myself there is a solution to everything), and that is so important. My parents live nearby and are also critical members of our village – which makes sense as they were the only village I knew for a while growing up!
The juggle is real – with rubber balls (materialistic) and glass balls (family). The goal is just not to let yourself drop any of the glass ones. We all need members of our village to help with the juggling. 
You have three adorable children under six, and you've described life in your house as 'fun chaos'. We're feeling this! What are some of the challenges you face as a working parent, and how do you stay positive and present on tough days?
The two biggest challenges that I'm currently facing as a working parent include the (self-inflicted) pressure we put on ourselves… and the unrealistic expectations that we hold ourselves to. I have never worked so hard in my life – in ALL areas of my life – while feeling like I'm failing in all of them. 
To help turn these feelings of perceived failure around, I talk about it. I talk about how HARD this is – to my team, to my husband, to my sisters, to my cousins and to my friends. To anyone who will listen. Talking about it helps – because nine out of 10 times the person that I am talking to will say "oh my gosh, I feel the same way!" Knowing that I'm not alone helps me stay positive.
How do you set work-life boundaries and make time for your family, yourself, and your work as a blogger?
I'm great at setting work-life boundaries for my family and my work as a blogger. I reserve evenings for my blogging work – both to separate the 'professional and personal', but also because the role I'm in is so busy these days, I don't have a minute to make sure we have milk in the fridge, let alone gather inspiration during the day for a post. I put up boundaries at work, ensuring that the after-5pm time is truly sacred. That's my time to spend making dinner and laughing at family shenanigans that I missed throughout the day when I was on conference calls.
Admittedly, I am not good at all for making time for myself. I am working on this – and it's a huge challenge in these quarantine times. I'm sure I'm not alone in this, but the simple tasks of daily showers, nutritious meals for mom and dad, and ample sleep are few and far between. I'm taking baby steps (i.e. drinking more water) to focus on myself for my family – but it's a big challenge.
What is one career or personal goal that you haven't yet achieved?
This is an interesting question to answer, especially about the one career goal I haven't achieved. To be honest, there are MANY goals I haven't achieved. I would say one of the most important goals I have, ironically enough, is making sure that I use my voice and platform to help as many working parents as possible know they are not alone and they are supported.
On a personal goal note, I grew up singing. Ever since I can remember, music has been a very important part of my life and has been a common thread. I met my husband when we were in the same college a cappella group. I've dreamed of being on Broadway one day, and have a personal goal to achieve that, even if it's when I'm 85 years old in the chorus.
What are your tips to other working parents for staying sane during the pandemic and beyond?
I have a few tips that I try and live by and some days are better than others. But here they are: 
1. Lower your expectations… and then lower them again. Expectations are the greatest barriers to joy. Simply let each day and moment be what it is rather than what you wanted it to be. 
2. Try not to compare. In a day of social media, it is HARD to compare your reality to someone's edited, filtered highlight reel. 
3. Remind yourself that 'there will be days'. This is something that my sisters (also working moms to small children) and I often like to say to each other. For example, there will be days to "lose those extra 10lbs", "run that marathon", "catch up with girlfriends over dinner", "vacation with your hubby", etc. But then we laughingly say "these just sure aren't those days!" 
Favourite time of the day… giving my children baths… I don't know why to be honest. I think it has something to do with the normalcy of it all during a time when nothing seems quite normal anymore. The baths are a sign of their typical routine. I watch them play amidst the bubbles – safe and happy – and it's a sign that we made it through another day. 
I recharge by… talking to my sisters. They're both older than me (by six and eight years) – but collectively we have eight children, all seven years and younger. So we are going through the same 'seasons' and understand the highs and lows. They are my closest trusted advisors and my forever family. I don't know where I would be without them.
I'm inspired by… people who show kindness in small gestures when they think others aren't watching. People are always watching and kindness is contagious.
Photo credit: Sara Sniderman Photography @sarasnidermanphotography
Discover more Real Stories from our Circle In community HERE.