Going after the opportunities that a single progressive company can offer can lead to incredible career growth and job satisfaction. Just ask Suzanne McConchie whose (safe to say!) blood runs blue for Ford. Suzanne's 17 years with the automotive company has taken her from graduate program to leadership; plus, it's been the backdrop for many of life's milestones, like meeting and marrying the love of her life, and becoming a parent to two adorable boys.
Suzanne is making an impact at Ford as a dynamic and empathetic leader, pushing the envelope for truly inclusive, family-friendly work culture. Suzanne shares how parenthood has held up a mirror to her attitudes and beliefs (see ya, motherhood penalty!), and intensified her drive to succeed in her professional life while making a better world for her family and coworkers.
Can you tell us about your career journey and your current role?
My career spans 17 years at Ford. 
I studied product design engineering at Swinburne University, Melbourne, Australia, between 2001 and 2005, and started at Ford as a co-op student in 2003 in sheet metal structures engineering. I then participated in the graduate program for three years from 2006. 
I spent 11 years in Ford's Broadmeadows plant supervising the assembly of the Falcon and Territory. In 2012, at 29 years of age, I was promoted to manager, supervising 160 operators in trim/final vehicle assembly. 
After the 2013 announcement of the plant closure (the plant closed in 2016), I moved to product development, initially in the design studio as design quality manager where I spent three years, and in that time I had my two children! I returned to work in July 2019 after my second round of parental leave to a promotion, and am now job-sharing as vehicle component systems engineering (VCSE) strategy manager responsible for business initiatives/engineering process improvement – innovation – learning and development.
Wow – 17 years with Ford… what an amazing achievement! You met your husband on the factory floor and have had your two sons whilst navigating your career with Ford. In fact, you had your first child around the time the Ford manufacturing plants closed in Australia. Can you tell us a little about that experience and what your parental leave looked like?
My first child, Sebastian, was born the day after the Broadmeadows plant closed in October 2016. The experience was a rollercoaster! I took 10 months of parental leave, and although Sebastian was a delightful baby, parental leave felt quite isolating and lonely.
I remember in the early days after having Sebastian, I managed to bake a cake and felt a real sense of achievement. A new bar was set in terms of 'getting things done'!
I was lucky to be surrounded by an amazing new parents group who I am still friends with four years on. A few months into the leave I managed to keep my days busy by planning the extension to our home. I hand drew our house plans and got them passed through council and VCAT objections.
After my first round of parental leave, I returned to work for 10 months and then had my second child, Gabriel, in July 2018. 
How has parenthood changed your perspective on life and career?
At three weeks old our second child, Gabriel, suffered from meningitis. Two years down the track, I see it as a life event that has changed my perspective on life and career. 
I have more empathy having seen firsthand the fragility of life. Everyone has a battle going on and I am more mindful of that now – we are all so different and that is okay; we have different values, different life experiences that have shaped us and it's okay for us all to embrace those differences and be the best version of who we want to be. 
I have always been achievement driven (sometimes to my own detriment!) and am driven to create the best workplace for my colleagues, however since becoming a parent I also want to create a better world for my children. I have formed a clear line between work and family – I have never been one to work overtime, but I will work efficiently and deliver during my work days.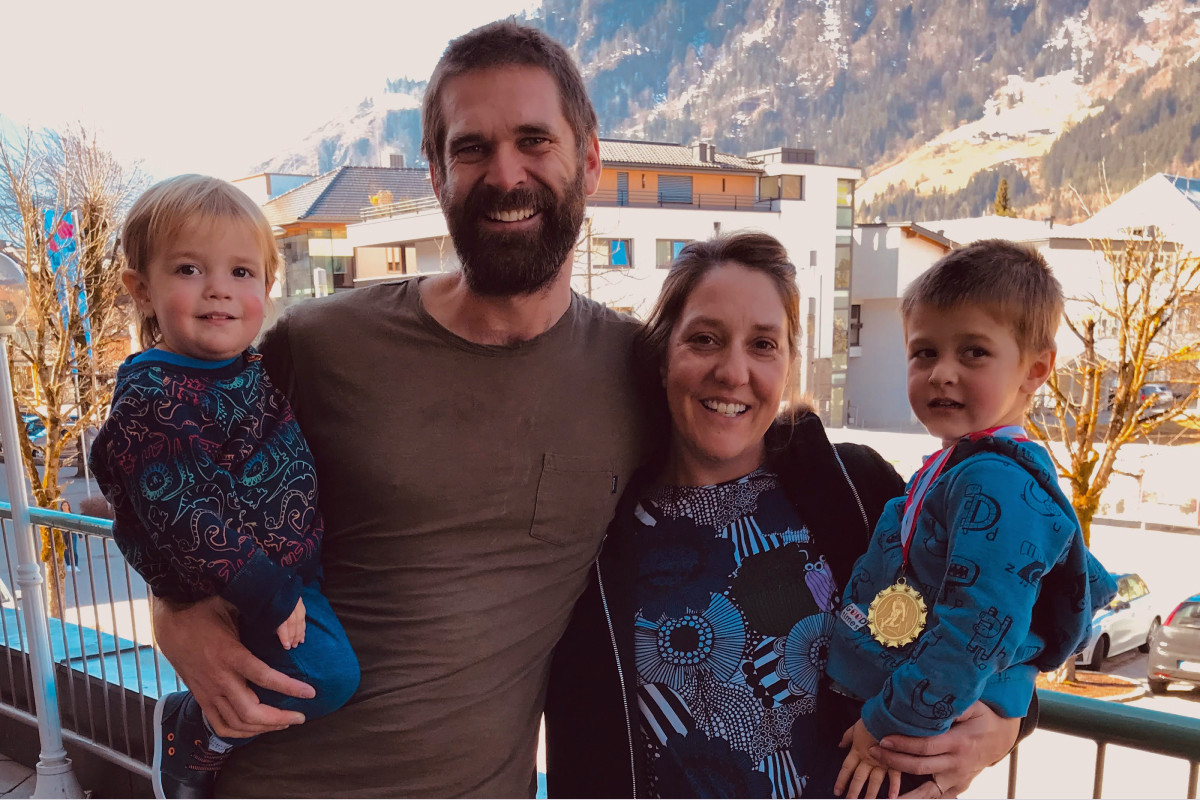 Your husband, Patrick, also works at Ford. How do the two of you share the juggle of work and life in a practical sense?
We both work four days per week and have discussed that we think we will never change that. It's great having a day per week (in addition to the weekends) to spend with the kids. We are truly equals and split the 'home work' evenly between us. 
It wasn't always that way though, and when I first went on parental leave I did the lion's share of the duties at home. Interestingly, I felt guilty when Patrick and I began sharing home duties, and it was Patrick who pointed out to me why I shouldn't feel that way. We have experienced a big mindset shift to become truly equal in our careers and as parents.
COVID has been tough and we have been working from home for six months juggling the kids between us two days per week while we work. It's taken its toll, but we are a pretty great team. Working for the same company definitely helps us both.
What are the benefits of you both working for the same organisation? Are there any challenges?
Ford is a community and we love working with our 'Ford family'. Patrick's brother and cousin also work at Ford, as does my cousin, so between us we have established a huge network of family and friends! Ford is very much a 'family' business. We have a number of lifetime friends that we meet up with on weekends for coffee or trips away. Knowing so many people at the organisation makes both our jobs easier, and we thrive in bringing people together.
We haven't come across any challenges as yet so let's hope it continues that way!
Your experiences as a working parent have inspired you to support other parents at your organisation. How have you done this?
I have been inspired to question the 'rules', and as a result we have made some policy changes to make the workplace more family-friendly. To mention a few: 
Children are now allowed onsite

, which means we have school holiday programs and parents can bring their kids into the office (we also do this for dogs at certain points of the year – pets are part of the family too!).

Keeping in touch days are promoted and encouraged.

Parents can keep their laptops while on parental leave, which allows them to keep in touch.
You currently job-share. How did this come about and what are your tips to make it work?
In contrast to my first parental leave, during my second round of leave, I kept in touch with work by continuing to lead the Ford Professional Women's Network, and also sharing the journey I was on with my son's health and project managing our home build.
Keeping in touch and being able to communicate what I wanted for the next step of my career as well as where I was at personally, meant that while on parental leave I was offered a promotion, and that the company adapted it to a job share position so I could take it on while managing everything else I had going on.
My tips to make job-sharing work are:
Constantly check in as a partnership on how you are working together and adjust as you learn. 

Don't be afraid to acknowledge when things need to change or could be more effective and efficient.
How do you relax and recharge? What does 'me time' look like for you?
Keeping up with the Kardashians and The HIIT factory! I love the mindlessness of reality TV – it allows me to switch off my brain. I also love exercise, especially team sport. I find when playing team sport you are unable to think of anything else – it's truly mindful. I have played water polo with Footscray Swimming and Water Polo Club for over 20 years and at the moment due to COVID, I haven't been able to play so I have thrown myself 100% into online classes with The HIIT Factory, and they are getting me through.
My best parenting tip/hack… Accept help – it takes a village to raise children, allow others to help!
The best career advice I've ever received… Don't underestimate the power of a network. Building strong relationships along the way will help you down the track.
Discover more Real Stories from our Circle In community HERE.