We just adore it when we find an inspiring career story wrapped up in a real life romance! Meet Sarika and Mithin Kosaraju, who independently moved to Australia from India as students, started their careers, met, and wed in 2014 in a modern arranged marriage.
No doubt you'll love the story of their beautiful journey, looking out for each other every step of the way through the ups and downs of marriage, parenthood, career and juggling it all.
Sarika, you're a beautiful wife and mum. Can you tell us a little about your family?
Sarika: My husband, Mithin, and I are originally from India. We both came here as students, finished our studies and started our careers, and ten years down the track we call Melbourne home with our beautiful little family.
Indians do arranged marriages, which is kind of Married At First Sight but different! This is how Mithin and I met in November 2013, within a week we were engaged, and two months later we married. Our marriage has been a beautiful journey that started with zero expectations and has involved getting to know each other more and more every day as we lived together as husband and wife.
At the point when we thought we knew each other pretty well, we decided to start a family, and soon afterward our son, Aaron, arrived. We didn't realise until this point that starting a family together was going to be a whole new, very different journey for us as parents. Fortunately, we are embarking on this journey hand in hand too.
What a fabulous love story and amazing journey! Can you tell us about your inspiring career journey too?
Sarika: I started as a warehouse assistant in April 2011 with the distribution wing of the company that I'm with now. When I joined, I had no idea that the company was carrying out scientific work in Melbourne, but it turned out to be a huge advantage. At the time, I was studying a Master of Biotechnology and Bioinformatics, which I graduated in December 2011. During my search for a job in science after graduation, towards the end of 2012 I took an opportunity to work with the company's R&D team two days per week.
My career pretty much started here, first as a lab tech before I moved on to become a research assistant and then into a scientist role. I was project lead for my very first project while I was pregnant in 2016, started parental leave on 28 December that year, and Aaron was born on 1 January 2017 (almost three weeks early!).
I've been back at work full–time since June 2017, and I currently hold the role of Process Development Scientist. So, yes—a journey from warehouse personnel to being involved in breakthrough and major projects in the same company—it feels quite good!
And Mithin, you came to Melbourne to study too. What career opportunities have you had?
Mithin: I'm an MBA graduate specialising in HR. I have worked for the Department of Human Services for the past 10 years.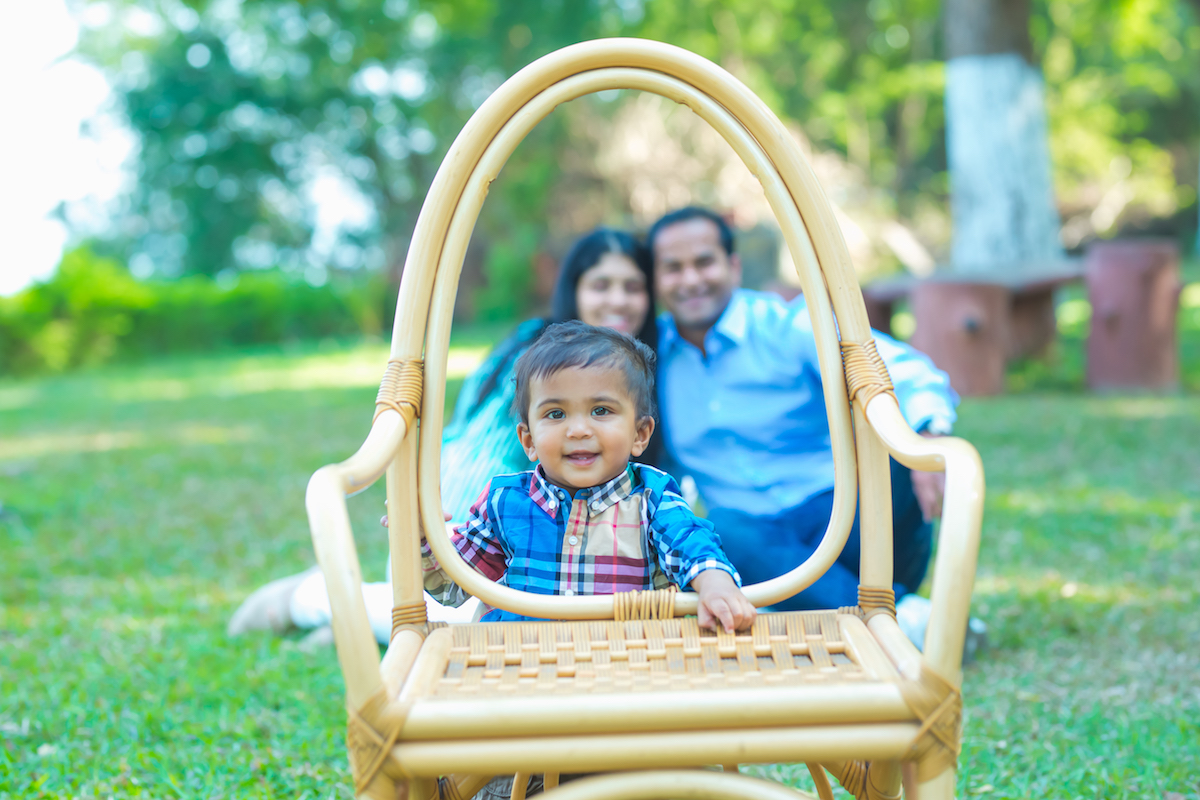 Congratulations on being the proud parents of a gorgeous son, Aaron. Can you tell us about how becoming a parent has changed your perspective on life?
Sarika: Thank you! He is my absolute bundle of joy! They say kids turn your life upside down, which is kind of true, but, personally, I feel motherhood has given me more power than before. My perspective on life has definitely changed and I look at things in a bigger space now. For example, I was initially struggling with a 'do it all' attitude—perfect mum, perfect employee—but, realistically, it was not practical and I ended up losing balance. With some introspection I started doing things differently.
I plan and prioritise now, and at times when work needs more attention, I communicate that to Mithin to make sure things are under control at home. I'm more controlled with my emotions and I don't take any nonsense like I did before. I feel more productive. My life revolves around Aaron in every aspect—social, work, personal—you name it! He is an integral part of everything I do.
In saying that, I have found that it is also important not to lose yourself in motherhood. You have a life, and you are often half of someone else's life as well. Always keep that in mind.
Regardless how much you give of yourself for your kids, it's never going to be enough, so keep a little back for yourself and your partner.
Mithin: Having Aaron has made me realise that I need to be a good role model and influence; which, before I had kids, had never crossed my mind. So, currently, my world revolves around doing the best I can for Aaron, caring for him and providing opportunities for him to realise his potential. I do my best to enjoy every day while he is growing and acquiring new skills.
Sarika, you went back to work when your son was five months old. What was the most challenging part of returning to work?
Sarika: Yes, I did! I'm not going to lie—it was absolutely hard! The hardest thing that I have ever done. I have to mention here a BIG shout out to our families. My parents and my in–laws have been a pillar of support and I cannot imagine motherhood without their help!
Leaving Aaron for eight or nine hours of the day was a big struggle emotionally. There were days when I would cry just getting into the car going to work. On my return to work there were some changes to my role, and it was hard to deal with so much change both personally and professionally. When I look back at it today I don't have any regrets. It was worth all that struggle. Thanks to my loving husband for his incredible support during my low times—he always pulled me off the edge.
Striking a balance between work and family life after your son's arrival was difficult at first. What adjustments did you make to find work-life harmony for your family?
Sarika: It was indeed! These little souls can have such an impact on you. You transition from this chilled out person to an entirely responsible one pretty much on the spot! Suddenly someone is dependent on you for pretty much everything.
Aaron arrived when we were not expecting him. I was just two days into my parental leave and Mithin was working. Mithin's parental leave kicked in straight away and he took another three weeks of annual leave. We always wanted to bond as a family in those first few precious weeks and we are so glad we did.
When I started working when Aaron was five months old it was so hard because we were missing out on family time. There were days Mithin and I would hardly see each other—our paths would cross for as little as 10 minutes in the morning or an hour or two in the evening, depending on Mithin's shift. It was affecting me so much. We looked into options like coordinating planned days off and sacrificing couple time for family time, but nothing was working.
In the end, I decided to go part-time for a year and we arranged it that each of us was home one day a week with Aaron. We also used every opportunity to create family time irrespective of how tired we were. There were a lot of sacrifices in the process and lots of guilt.
A special mention goes to my mother-in-law who has been an amazing support. She and Aaron share such a special bond that I can't get enough of! On the days she is with us when I get home from work, seeing the two of them interact is like a stress–busting pill!
Mithin: To find harmony I try to be available as much as possible for my family. Knowing that my family is waiting to spend time with me makes it easier for me to prioritise family time. Not taking too much stress home from work, and lots and lots of patience with Aaron while he finds his feet help too.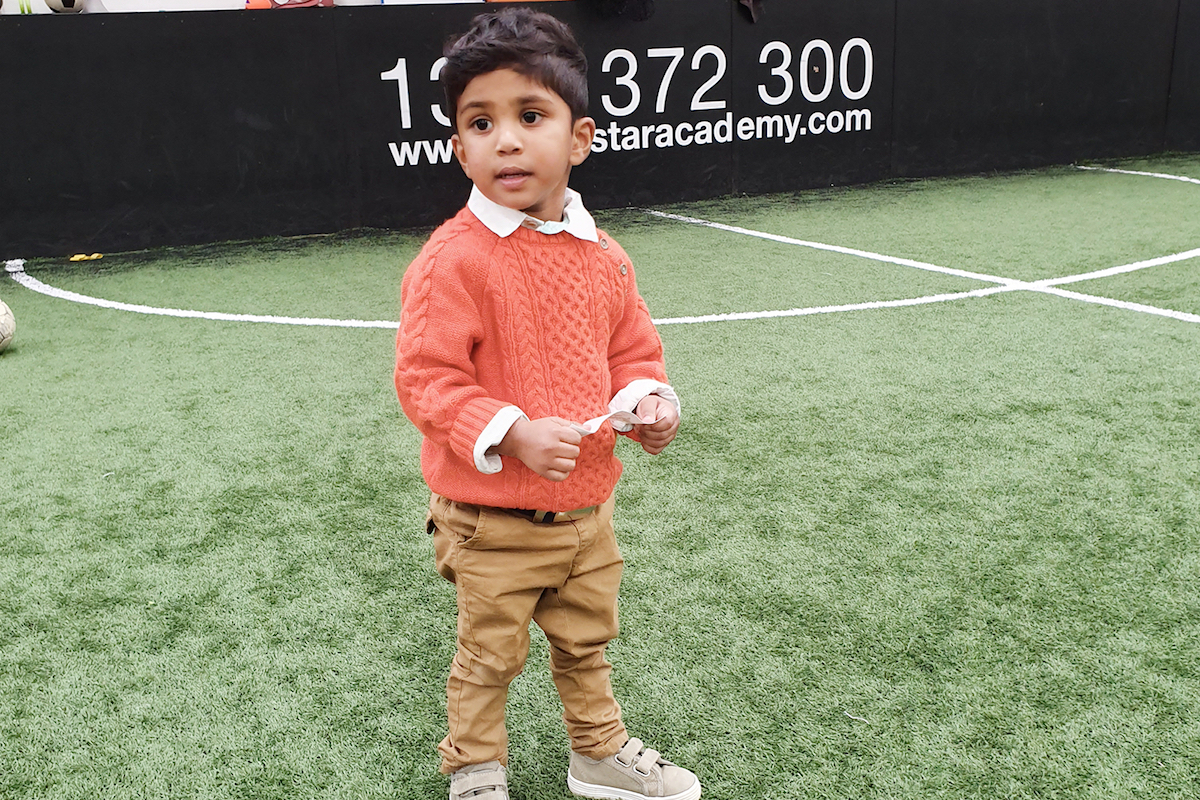 What have you learnt from this experience that you would pass onto other women in a similar situation?
Sarika: You are the mother of your child and only you know what works best for you and your family. People will judge you and life will throw you curveballs, but never give up. Persistence and resilience are your tools. Believe in yourself and get on with the challenge. With every challenge you overcome you learn something, and learning is very important because you are your child's first teacher.
Importantly, you shouldn't let the guilt get you because essentially you are working to provide for your kids—from the basics in life to better opportunities. You must also remember you are leading by example. Whenever I'm in turmoil I remind myself: 'OK, I'm doing this for my family, it's OK, I can do it, I should do it!'
Raised in India, I grew up hearing the saying: 'It takes a village to raise a child'. I could not relate to it until I had a child myself! Now I know any amount of help is never enough with a child! Your village involves everyone around you—your boss who is flexible, your friend who is happy to lend a listening ear, your family that travels all over to help, and lots of other supporters who are happy to help too! The point is, it is totally OK to accept help.
It can often feel like having kids and a career are mutually exclusive, however you have been able to progress your career since having your son. How have you been able to achieve this?
Sarika: It does feel like that sometimes, but I guess it's how you look at it. For some women it can feel like instead of going to work and paying for childcare you might as well stay home and be a full–time mother (childcare is expensive!). But for me, you lose more than just money by not being in the workforce.
As it is, you will be perceived differently at work. I felt it and I'm sure every mum goes through it. You start to do things differently, you multitask more and there is always that mother in you, 24/7. I feel willpower is the key to overcoming any challenges, and I believe women are blessed with a lot of it—it's up to you to use it.
When it came to progressing my career, there were times when I felt like giving up. I felt frustration when others judged my capabilities because I was a mum. But I have been really fortunate to have a mentor in my life (who is also my previous boss) who has filled me with faith and wisdom that hard work will never go to waste and the skills you develop will always stay with you whether you use them now or not. He has taught me that when life plays hardball be patient, give it time, show you are capable of dealing with it and you will be rewarded. This is exactly what happened to me.
Also, my darling husband, who always believed in me, was my strength.
Mithin: I separate work from home. Being a shift worker, I don't have work responsibilities outside of work time, so when I'm out of the workplace I am able to switch off. When I leave work, even if I've had a bad day, I look forward to going home to play with Aaron and it brings me immense happiness and joy.
What is the best career advice you have ever been given?
Sarika:
Keep up the good work and things will fall in place

(

from

my

g

randad)

Knowledge is your wealth

(

from

my

d

ad)

D

on't underestimate yourself

. Y

ou won't get anything until you ask (

from m

y husband)
Mithin, you're a shift worker and Sarika, you work standard full-time hours. How do you manage to find time to spend together?
Sarika: As I said at the start it was hard until we struck a balance. Now we have a date night once a month at minimum. We figure out all our arguments, discussions and planning over the phone, so when we both are home we're guaranteed to have quality time (at least until now!)—and not doing it face to face stops us from getting into serious fights!
Mithin: We try to socialise and go on dates as much as we can. My wife schedules it and I make sure I keep myself free. This juggle I believe is short term. We know it won't be this demanding going into the future.
How do you practically manage the juggle of family and work?
Sarika: I think it all comes down to being organised:
I cook meals on weekends and freeze

Pack lunches

and

clean up the night before

D

o the grocery run on weeknight

s

to make myself free for Aaron

'

s classes on weekends

Plan the

coming

week

's drop offs, pick-ups and early starts, etc,

on

the weekend

I

mportantly

, when needed,

I am

prepared/motivated to work after hours once I fulfil my

m

um role
We each have set duties with Aaron. I take care of Aaron's classes over the weekend (Mithin helps when he's home). I take care of Aaron's meals and most pick-ups. Mithin takes care of drop offs and outdoor activities, be it taking Aaron to the park, training him on his scooter, etc.
Mithin: I organise my time too. Having a baby is a huge responsibility. Thankfully my wife is very understanding and steps up while I'm not around. When I am around I help out and Sarika and I complement each other accordingly. Also a huge credit to Aaron's grandparents who help us out big time. They have been a solid support for us.
At the end of a busy week, how do you positively re–energise?
Sarika: I surround myself with positive people. Social life is important. Wine and good food fixes everything!
There is never enough time, so being content with what you have is the key! As parents we are all running with time. I don't have the privilege to have a lot of 'me time', so I try to make the best of the time I have. If I manage to get everything done during the week, plus a big batch of cooking on Saturday, and I can get that relaxed Sunday evening, I'm happy. I think being organised for the upcoming week brings a lot of positivity. Make the best of the precious moments you have with your family.
… and a few quick questions answered by Sarika
Favourite time of the day is … morning cuddles with Aaron and when I pick him up from daycare.
Instagram sites that inspire you … anything about food, homes, celebrations (party décor and food ideas), successful people.
I'm happiest when … I cook and eat good food, good wine, watching both my boys play.
I'm addicted to … (to an extent) coffee, travelling.
Favourite wardrobe staple for work … formal wear, nice cut jackets.
Favourite wardrobe staple for weekend … jeans and a t-shirt, dresses.
My role model is … any woman who is strong willed and positive.
Heels or flats? I'd love to say heels, but my answer is flats!
Discover more Real Stories from our Circle In community HERE.