Meetings, chores, family time, life admin, and then throw homeschooling into the mix – so many demands on working parents can be exhausting to say the least. So, when things are crazy busy, how do we still enjoy an enriching, happy and healthy lifestyle?
We hit up our fave California-based working parent blogger, Shweta Thota, for her BEST practical tips and hacks for living life to the fullest. The doting mom, loving life partner and accomplished techie seems to always take the work-life juggle in her stride. Don't know how she does it…? Well, we do now!
You're adored for your inspirational parenting blog @shwetas_space, and you also juggle working full-time as an engineer. Amazing! Can you share a little about your career journey with us?
Really appreciate the encouraging words! This blog is my channel to destress and I absolutely enjoy sharing my experiences. I started my career as a design engineer at Intel after graduating with a masters in electronics engineering. I slowly started to climb the career ladder, taking up challenging positions. My career never came in the way of growing my family – I got complete professional and personal support through both my pregnancies and postpartum recovery.
You have two gorgeous children. How has parenthood changed your perspective on life and career?
Being a parent gives you a drive and passion to work harder and smarter. My husband and my goals and motivation are more than just about us, they're about working towards a better life, each day, for our family. Post-kids, life has shifted gears for both of us. Effectively handling my time is something I've learnt over the course of it. 
What does a typical workday look like for you?
It's a crazy ride. 
Pre-pandemic we had a routine: daily morning chores, dropping off kids at school and daycare and heading to work. At 5pm sharp our laptops would shut; no matter what. Hustle through the traffic to pick up the kids, and then the regular household routine. 
Post pandemic life has taken a U-turn for everyone. Managing everything under one roof is something no one taught or prepared us for. It's been a great learning experience for every parent. 
We try to stick to a routine. All kitchen chores are done before the kids wake up. At 8am my daughter starts her online school while my husband and I catch up on early morning meetings. After much apprehension, we started sending our son to preschool – so we drop him off in the morning. Meetings, breaks, lunch, homeschooling. Pick up our son in the evening. After some snacks, we go for a quick stroll around the neighbourhood, after which comes the regular chores of meals, dinner, bedtime stories and then we call it a day!
How do you share the work-life juggle with your husband?
My husband is very supportive when it comes to work-life harmony. We both believe in co-parenting. I couldn't have done it all without his support. 
We split every task: while I do the cooking, he does the dishes; I do the laundry and he helps with folding, etc. 

We stagger our worktimes during the day. 

We review our upcoming schedules each evening and figure out when one can take care of the kids' needs, while the other takes calls/handles work that requires focus. 

Plus, my husband has loads of patience when it comes to clicking our pictures for my blog, so I can't thank him enough!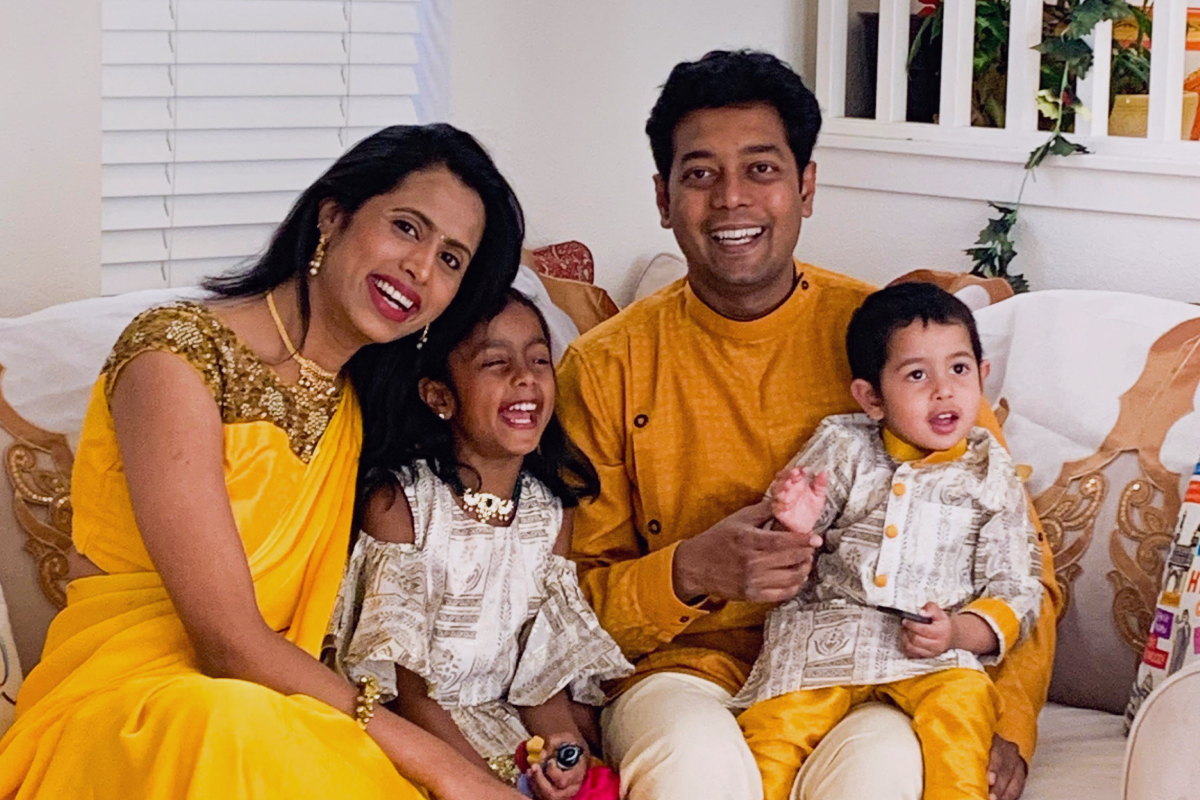 What do you love most about being a working parent?
The fact that I'm still able to pursue my career goals after kids. The best part is that it helps us stay productive and efficient in the limited time we have. Intrinsic motivation plays a big role: succeeding at work means providing for our family. We are motivated to be good role models and encourage our kids to succeed. 
Your honest account of the working parent juggle is so refreshing, and your optimism is inspirational! What are some of the challenges you face as a working parent, and how do you keep up and keep smiling? How has this changed in light of the pandemic?
One wants to do a great job as both a parent and employee, but managing it all can leave us feeling we're straddling a great divide. 
Most of the challenging situations like sick children, the kids' important days/milestones, family emergencies, etc. need your time and attention. In such cases it's better to be proactive and set expectations with your manager/team ahead of time. 

Guilt plays a big role: the feeling of not being there for your child, not being able to 'do enough'. Don't carry this load. The more we think about this, the more it affects us mentally. Our kids need a happy parent, not a perfect parent! 

The best part of working from home… you get those hugs and kisses from your little ones every now and then. Definitely a boost for me!
How do you set work-life boundaries and make time for your work as an influencer and blogger?
Drawing that line is extremely essential – I can't be on my phone 24/7 and neither can I sideline it. Most of the blogging work is planned over the weekends. Or now that I have flexibility of time, I sometimes plan during my breaks. I'm focused on work from 9ish to 5ish and outside of that I catch up on social media. Sometimes I log in during breaks to catch up on emails/collabs/DMs. At night, once the kids are off to bed, I get to spend most of my time on blogging (if I don't have any cross-geo meetings to catch up on). Also, if you observe my posting cadence, it's not daily. I take up only how much I can. 
Boundaries are super important to ensure I don't burn out.
What are your tips to other working parents for staying healthy and sane during the pandemic and beyond?
First and foremost, please lower your expectations of both yourself and your kids.

Take a break from work wherever you can. 

Shift your meetings to less busier time slots (eg. kids' nap time). Our leaders understand that we have personal obligations outside of the workplace and understanding when flexibility is needed for schooling, doctor's appointments and personal errands. 

Don't forget to dress up. Even if it means putting on stylish PJs. It's an immediate mood booster. 

Take turns with your partner and shuffle responsibilities depending on your schedules. 

Stick to a routine and find some time for yourself, be it walking, hiking, meditation, going for a ride. Take advantage of new flexibility – take a quick stroll around the neighborhood while you FaceTime with buddies, prepare a quick meal, work from your backyard, get some fresh air. Basically, do what helps you unwind and refreshes your mind. Give yourself space and grace!
Fave time of the day… Evenings in my backyard where we hang out with snacks and tea.
I recharge by… Blogging, connecting with like minded people and a lot of shopping. I love planning events – be it festivals, birthdays, anniversaries, holidays. I can never get tired of planning events.
I'm grateful for… For every moment and for everything I have achieved in life till now. Never take anything for granted!
Discover more Real Stories from our Circle In community HERE.